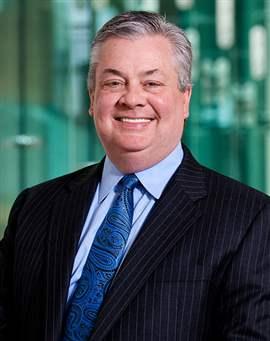 Let me introduce you to Lankenau Medical Center—one of the Philadelphia region's health care leaders. At Lankenau, we combine the finest patient care, medical education and research with the deepest commitment to improving the health of our community.
This is an exciting time in Lankenau's history. This summer, we opened the Heart Pavilion at Lankenau Medical Center, a five-story, 274,000-square-foot facility that will help to deliver world-class medical care to our region. Designed to increase the capacity of hospital programs and improve the patient experience, the Heart Pavilion contains outpatient diagnostics, imaging centers and 96 all-private rooms.
Most notably, the cornerstone of the new Pavilion is the Lankenau Heart Institute, serving as a destination for advanced, personalized, high-quality cardiovascular care. The Lankenau Heart Institute's world-class cardiologists, cardiovascular surgeons and sub-specialists will be collocated in the building to offer patient-centered care, integrating the latest prevention, diagnostic, treatment, rehabilitation and chronic disease management services.
But Lankenau is so much more than new facilities, programs and buildings. The heart of our organization is our people. To explain what I mean, I often share the following words from the husband of one of our patients:
Within five blocks of our downtown home are two university-affiliated hospitals, but we believed that Lankenau would be best able to meet our needs. What we found exceeded our expectations. Perhaps the thing that struck us the most is that everyone at Lankenau really does seem to care. I'm not just talking about the doctors and nurses. I'm also talking about the parking valet, the desk staff, the cafeteria workers, the pharmacy staff, the gift shop staff, and the kitchen employees. Everybody. Everyday. In countless ways, the entire staff lets you know they care. They anticipated needs. They took time to answer questions. They were precise and professional in their work. They were friendly. They were compassionate. They cared. And, in turn, we felt well cared for.
This attention to detail…this commitment to excellence…this kindness we show to our patients—this is spirit that is found at all levels of our organization. Lankenau Medical Center will continue to excel because of our superb health care professionals, the dedication of our employees and the participation of our community members who give of their time and treasure to help us constantly improve our institution. Lankenau is proud to be here…for you!
Yours in good health,
Phil Robinson
President, Lankenau Medical Center