We have been made aware of scam telephone calls being made to individuals from a caller or callers stating that they represent health system billing departments. The caller claims that outstanding balances are owed and then requests identifying information such as date of birth and social security number. This has been reported to the Pennsylvania Attorney General's office and local police. 
The safety and security of our patients and their personal information is important to us. If you receive a phone call from a person or agency purporting to represent the Main Line Health billing department and have concerns about the legitimacy of the call, we encourage you to contact our Customer Service line at 484.337.1970 or 833.485.7148. Thank you for your diligence in keeping your personal information safe.
Ways to pay your bill
As we have transitioned to our new electronic medical records and billing system, please take note of when and where you were treated prior to making online payments or contacting customer service.
For services provided on or after March 3, 2018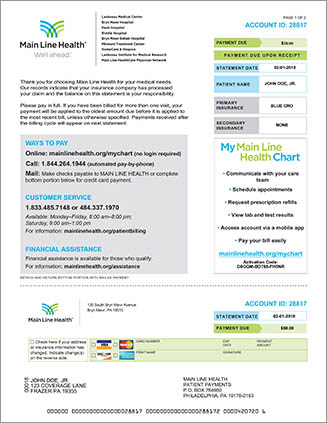 For patients who received treatment after the launch of our new system, the majority of our billing and support has now been centralized. If you received a bill from the following locations, you can make a payment through MyChart.
Main Line HealthCare Physicians
Lankenau Medical Center
Bryn Mawr Hospital
Paoli Hospital
Riddle Hospital
Bryn Mawr Rehab Hospital (inpatient or outpatient)
If you have an account, just sign in and selecting "billing" to view current and past charges. If you do not yet have an account, request an activation code online to create an account or select "pay as guest" from the sign in page to process a payment without an account.
Please note: Online payment processing is not currently available for patients of Mirmont Treatment Center.
If you wish to speak with a billing representative, please call 833.485.7148.
For services provided before March 3, 2018
Please visit our legacy billing page for samples of various types of bills from our organization and instructions on how to pay bills online or by contacting customer support.
View our legacy billing page and pay online
Additional online services
Request an itemized bill
Have questions about your statement? We're happy to send you an itemized bill. Submit this form, and an itemized bill will be mailed to the person listed as the guarantor on the account.
Request an estimate
Estimated charges for services at our hospitals are available upon request. Estimates are not an exact quote, as the type and level of care you receive may change during the procedure if your physician determines it is necessary. Your charges will depend on the actual services you receive.
Financial assistance
Main Line Health's mission is to provide a comprehensive range of safe, high-quality health services, complemented by related educational and research activities that meet health care needs and improve the quality of life in the communities we serve. One of the ways Main Line Health fulfills this mission is to provide financial assistance to those members of the community who are in need. There are several different programs that have been established for this purpose.
Learn more about financial assistance at Main Line Health
Contact customer service
If you have questions regarding your bill, please call us toll-free at 833.485.7148.
Representatives are available to assist you:
Monday–Friday 8:00 am–6:00 pm