Elizabeth (Betty) Craig, DNP, RN, FACHE
Senior Vice President and Chief Nursing Officer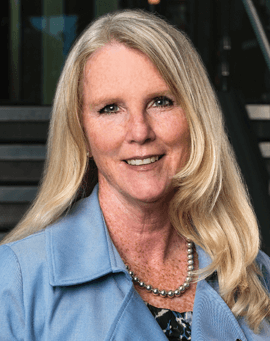 Elizabeth (Betty) Craig, DNP, RN, FACHE, serves as Senior Vice President and Chief Nursing Officer for Main Line Health. Craig, who brings numerous levels of progressive leadership throughout an impressive career, joined the system in August 2022. Craig spent 12 years at Main Line Health earlier in her career, working at Lankenau Medical Center from 1999 to 2011.
In her role with Main Line Health, Craig leads and oversees nearly 3,000 nurses while cultivating the nursing education, nursing leadership and nursing research within the organization. As part of the CNO responsibility, Craig will also share responsibility for Safety, Quality, Equity and Affordability within the system while ensuring consistent standards of practice across the clinical setting. As a member of the Main Line Health executive team, Craig supports and facilitates a collaborative, interdisciplinary team approach to the delivery of care.
Prior to her role at Main Line Health, Craig served as the Chief Nursing Officer at Pennsylvania Hospital, part of the University of Pennsylvania Health System. During her tenure with Pennsylvania Hospital, Craig supported the organization through its Magnet redesignation in 2019, co-led the COVID-19 Response Team, oversaw organizational initiatives, achieved operational and workforce efficiency, improved patient experience, actively engaged in shared decision-making and developed a Nurse Scientist role. Previously, Craig served as Senior Vice President, Patient Services at Temple University Hospital from 2011 to 2019, where she successfully led Temple to its first Magnet Designation. Her achievements included Chief Nurse Executive responsibilities, including expanded scope in Laboratory Medicine, Physical Medicine and Rehabilitation Health Service, Environmental Services, administrative and clinical responsibility for Emergency Department/Medicine, and oversight of the Department of Internal Medicine service line.
Craig earned a Doctorate of Nursing Practice from Thomas Jefferson University, a Master of Science in Nursing from the University of Pennsylvania, Nurse Practitioner, Health Care of Women, and Bachelor of Science in Nursing from Villanova University.
Craig's special interests include safety, quality, diversity, equity and employee engagement.