Barbara Wadsworth
Senior Vice President and Chief Nursing Officer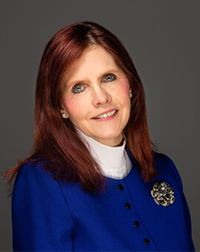 Barbara Wadsworth, senior vice president of patient services and the chief nursing officer of Main Line Health, brings over 30 years of executive nursing experience to the system. Under her dynamic leadership, Main Line Health history was made when the American Nurses Credentialing Center (ANCC) announced the achievement of becoming one of only 22 health systems in the nation to achieve Magnet® status.
In her current role, Barbara vibrantly leads nearly 3,000 nurses, and has a strong focus on professional practice, empowerment and strives to create a culture of caring through the use of holistic therapies, shared decision-making and advocacy. Barbara is responsible for the leadership of all areas of patient care services throughout the system, and most recently led the nursing staff through the transformation of Main Line Health's Epic implementation—one of Epic's largest implementations to date. She also currently oversees Main Line Health's major performance excellence initiative, and has led efforts across the system that resulted in Main Line Health being chosen as one of three health care organizations in the entire tri-state region to receive the Excellence Award from The Mid-Atlantic Alliance for Performance Excellence (MAAPE), which demonstrated our ability to align with the Baldrige Performance Excellence Framework. Additionally, Barbara is responsible for other systemwide projects focused on patient satisfaction, embedding the culture of safety at Main Line Health, palliative care, and advancing care coordination and population health to meet the needs of our community members well into the future. Barbara is also responsible for the inaugural Clinical Pastoral Education Program at Main Line Health.
While ensuring Main Line Health's nursing team is offering superior care to patients, Barbara has also continued to advance her own professional development. She received her Doctorate in Nursing Practice, Health Systems Leadership, from Vanderbilt University in 2014. She also became certified as a Nurse Executive, Advanced; a Fellow in the American Academy of Nursing; and a Fellow in the American College of Healthcare Executives. She is a 2009 Robert Wood Johnson Executive Nurse Fellow, was inducted as a Fellow into the National Academies of Practice in March of 2017 and recently completed the national Baldrige Executive Fellowship. She is a member of the American Nurses Association, PA State Nurses Association, Sigma Theta Tau, and American Organization of Nurse Executives.
Barbara serves on several boards, including serving as President of the Nightingale Awards of Pennsylvania, immediate past president of the Pennsylvania Organization of Nurse Leaders, and member of the Immaculata University MSN Advisory Board. She serves as the current Vice Chair of the Gift of Life Board of Governor's after previously serving six years on the Medical Advisory & Policy Board. She serves as Chair of the PHL Convention & Visitors Center Board Nursing Leadership Committee and is serving on the Montgomery County Board of Health for a second term. Barbara was appointed to the Hospital & Healthsystem Association of PA Board in 2017 and was appointed by HAP to become the nurse leader representative on the Pennsylvania Action Coalition. Barbara also served on the American Heart Association's Go Red for Women Board in 2014 and their Executive Leadership Team in 2015.
Barbara's dedication to nursing leadership, innovation, research and education, as well as her commitment to the nursing staff, the employees across the organization, and the patients and visitors who seek care at a Main Line Health hospital or facility, is truly represented in her accomplishments since her tenure began at Main Line Health in 2012. Her determination and vision further enhance Main Line Health's ability to provide superior care to the region while simultaneously serving as a compassionate and engaged mentor for many other rising stars in the health care industry.