John Schwarz
President, Bryn Mawr Hospital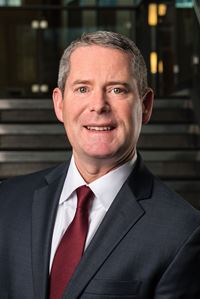 John Schwarz, president of Bryn Mawr Hospital, brings more than 20 years of experience as a health care leader to his role. John joined Main Line Health in 2013 as the Vice President of Administration at Lankenau Medical Center and served in the role for seven years before assuming his current role at Bryn Mawr Hospital. As president, John provides leadership and operational oversight at Bryn Mawr Hospital and collaborates with clinical and operational leaders across Main Line Health to identify and execute strategies that are aligned with the System's mission, vision, values, and strategic plan.
During John's tenure at Main Line Health, he led the launch and accreditation of Lankenau's Level II Trauma Center which—in its first, second and third year—achieved clinical outcomes in the top decile. Additionally, John was instrumental in supporting the System's Performance Excellence initiative, which sought to streamline operations and clinical care across Main Line Health He led the workforce initiative and served on the project management team, playing a critical role in identifying opportunities for displaced employees following the closure of Hahnemann University Hospital.
Before joining Main Line Health, he served as an executive leader at Cooper Hospital in New Jersey, where he oversaw a six-year, $260 million campus expansion plan and led operations and strategy for the largest academic orthopaedic practice in South Jersey. Prior to that, Schwarz held senior leadership roles at Tenet Healthcare.