Don Klingen, MD
Senior Vice President and Chief Medical Information Officer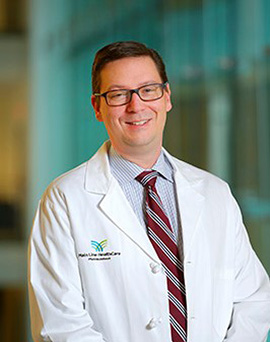 Dr. Donald Klingen is the Chief Medical Information Officer and a Senior Vice President for Main Line Health. Since joining Main Line Health in 2011, he has been responsible for the enterprise application division of the Information Services department as well as the Clinical Informatics department. Dr. Klingen is dual board-certified in Family Medicine and Clinical Informatics and continues to see patients on an ongoing basis.
Dr. Klingen's interest in clinical informatics and the application of technology to clinical care started from his residency training where he pursued a fellowship in faculty development and clinical informatics. An advocate of "applied clinical informatics," he works with physicians, operational leadership and technology teams to help provide safe, timely, effective, efficient, equitable, patient-centered care.
Prior to joining Main Line Health, Dr. Klingen was a family physician with Crozer-Keystone Health System where he also served as Medical Director of Information Services.
A graduate of the University of Delaware and the Sidney Kimmel Medical College at Thomas Jefferson University, Dr. Klingen completed his medical residency at Riverside Regional Medical Center as well as a fellowship at Virginia Commonwealth University. He also holds a Post-Graduate Certificate in Medical Informatics from Oregon Health and Science University. His professional activities include serving as an adjunct lecturer at the Thomas Jefferson University School of Population Health.
Dr. Klingen and his family reside in Chester Springs, PA.