Jim Paradis
President, Paoli Hospital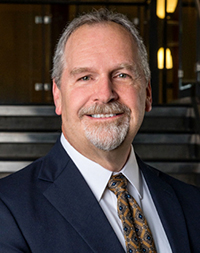 Jim Paradis joined Main Line Health in 2003 and has held numerous positions including vice president of operations at Bryn Mawr Hospital, vice president of administration at Riddle Hospital, and vice president of administration at Paoli Hospital. He was named president of Paoli Hospital in November 2012. In this role, he has overall responsibility for the hospital, including day-to-day operations, strategic planning, clinical program development and finances.
Paradis has more than 25 years of experience in health care systems management and operations and has held executive health care roles including chief operating officer for Graduate Hospital and vice president at Hahnemann University Hospital.
Paradis is a graduate of Cornell University with a bachelor of science degree in agricultural economics and holds a master's degree in business administration from the Wharton School, the University of Pennsylvania.
Paradis and his family reside in King of Prussia, Pennsylvania.