Pam Teufel
Senior Vice President, Human Resources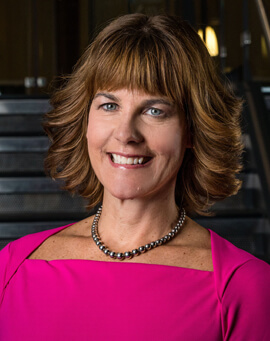 Pam Teufel joined Main Line Health in 2021 as Senior Vice President of Human Resources.
In her current role, Pam is responsible for leading Main Line Health's overall human resources strategy, leadership development, employee education and development, total rewards, HR operations and technology, and employee engagement.
Prior to joining Main Line Health, Pam served as the Chief Human Resources Officer at Saint Peter's Healthcare System, where she led the organization to achieve employee engagement levels well above industry benchmarks. She also modernized the HR function and produced a high-touch employee experience by eliminating paper and offering employees more self-service options. Pam is known for her ability to streamline inefficient processes and boost HR and employee productivity.
Pam was previously the Chief Human Resources Officer at Jefferson Health overseeing the University, Hospitals and Physician Practices. She also held the same position at Temple Health and has spent time in private equity. Pam has more than 26 years-experience in human resources. She has worked in unionized and non-union environments. She has a reputation for being an effective business partner working across all lines in the organization. She is passionate about her work.
Pam is a graduate of Ithaca College and holds a master's degree in Business Administration from Strayer University. She also earned her Senior Professional in Human Resources Certification (SPHR).
Pam resides in Dresher, PA with her husband Chris and 3 children. She enjoys training for sprint triathlons in her free time.