Jack Lynch III, FACHE
President and CEO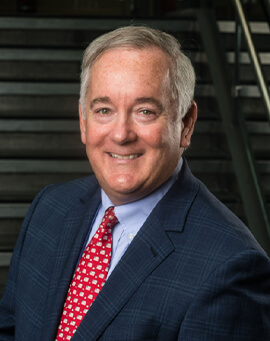 John J. (Jack) Lynch III has served as president and CEO of Main Line Health since 2005, providing executive leadership to suburban Philadelphia's most comprehensive health care system. Main Line Health is comprised of four of the region's respected acute care hospitals --Lankenau Medical Center, Bryn Mawr Hospital, Paoli Hospital and Riddle Hospital—as well as one of the nation's premier facilities for rehabilitative medicine, Bryn Mawr Rehab Hospital; Mirmont Treatment Center, one of the leading addiction treatment programs in the Northeast; the Lankenau Institute for Medical Research; and Main Line Health HomeCare & Hospice, which provides at-home nursing and hospice care throughout the five county region.
During his tenure with Main Line Health, Lynch and his leadership team have been credited with strengthening the organization's commitment to safety, quality and equity and enhancing the technology necessary to support significant advances in those areas. He has also fostered a period of expansion, including the addition of an acute care hospital and six health centers to better serve the needs of the Main Line and western suburban communities, and has cultivated an employee work environment that has garnered recognition from several independent rating organizations.
Prior to joining Main Line Health, Lynch served nearly 20 years as an executive with the St. Luke's Episcopal Health System in Houston, Texas, where he advanced to the position of Executive Vice President and Chief Operating Officer for the system, as well as CEO of the system's flagship facility, St. Luke's Episcopal Hospital. While residing in Houston, Lynch served on the boards of a wide variety of professional associations, including the Texas Hospital Association, the Greater Houston Hospital Counsel and the United Way.
A native of Washington, D.C., Lynch received his undergraduate degree from the University of Scranton in Pennsylvania and his Master of Health Administration degree from the Washington University School of Medicine in St. Louis, Missouri.
As former Governor of the American College of Healthcare Executives, Lynch serves on the boards of the United Way of Greater Philadelphia and Southern New Jersey, The Haverford School, the Malcolm Baldrige National Quality Award Board of Overseers and The American Heart Association.
Lynch and his family reside in Bryn Mawr, Pennsylvania.