Donna M. Phillips
President, Bryn Mawr Rehab Hospital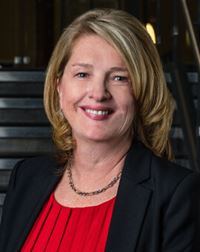 Donna Phillips is a senior health care executive with more than 20 years experience in non-profit health care management and growth.
As the president of Bryn Mawr Rehab Hospital, Ms. Phillips is responsible for strategic long-range planning and management of the 148-bed physical and cognitive rehabilitation specialty hospital. In addition, she serves as president of the hospital foundation board, the hospital's fundraising arm. She is also responsible for the ambulatory and ancillary services for the Main Line Health system. Furthermore, Ms. Phillips is the executive sponsor for Main Line Health's PIVOT project in which the entire system will transition to Epic as its single, integrated electronic medical record system.
Ms. Phillips is a member of the Board of Directors of the YMCA of Greater Brandywine as well as the March of Dimes of Southeast PA/Southern NJ board. She presently serves on the American Hospital Association's Regional Policy Board 2. She is a past member of the board of the Family Lives on Fund and the Chester County Chamber of Business and Industry. She was the 2010 Great Valley Regional Chamber of Commerce Business Woman of the Year. She was also named the American Heart Association Go Red for Women Executive Campaign Champion for 2010–11 and 2011–12. Most recently, March of Dimes awarded Donna the 2016 Women of Achievement Award for Excellence in the Field of Health.