As with most minority groups, unless you are a member yourself, it is difficult to fully understand the toll that discrimination and prejudice take on one's emotional well-being. The rejection, both societal and familial, lead to overwhelming feelings of depression, anxiety, fear and loneliness. One of the most common ways to alleviate some of these painful emotions is to escape through the use and abuse of substances. This is never more prevalent than in the LGBTQ community.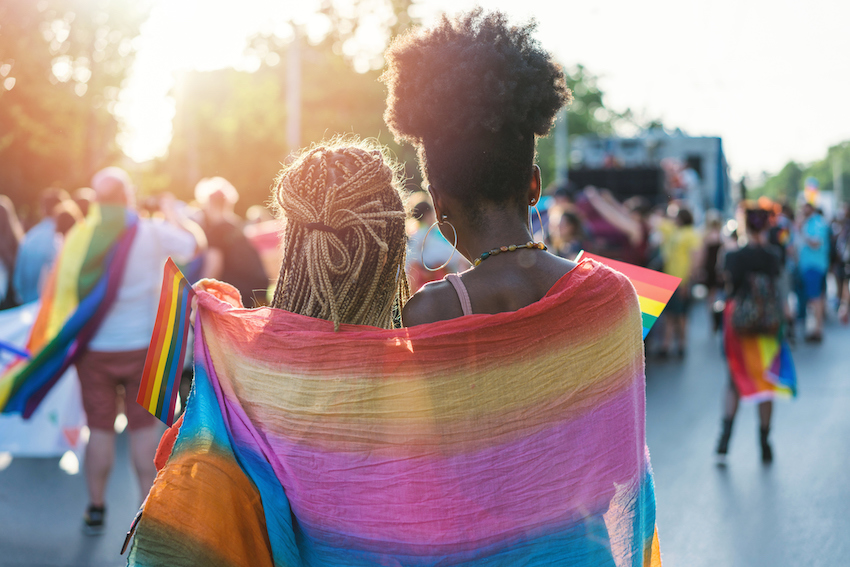 For the LGBTQ community, the likelihood of substance abuse disorders is far greater than in the non-LGBTQ communities. According to the National Survey on Drug Use and Health, LGBTQ adults are more than twice as likely as their heterosexual counterparts to suffer from a substance abuse problem.
"Although the level of societal awareness and acceptance has grown significantly over the years, it is likely that the deep-rooted feelings of being 'less than' remain foundational for many LGBTQ individuals, resulting in low self-esteem and self-worth. It takes a great deal more than external messages of acceptance to heal the long-term messages of hatred and judgment", says Kerry Welch, MS, CAADC, a behavioral health therapist at Mirmont Outpatient Center in Exton, part of Main Line Health.
According to The Substance Abuse and Mental Health Services Administration's (SAMHSA's) A Provider's Introduction to Substance Abuse Treatment for Lesbian, Gay, Bisexual, and Transgender Individuals, some of the most common factors that contribute to the high level of substance abuse within the LGBTQ community are:
Lack of peer support and exclusion from social events or groups
Social rejection and isolation
Physical abuse as the result of sexual orientation or gender identification
Fear of coming out to family and friends
Pressure from spiritual organizations to conform
Depression, anxiety, and suicidal thoughts
These factors serve as significant hurdles when faced with the decision to seek treatment. Therefore, according to SAMHSA (2020), LGBTQ individuals often enter treatment with more severe addiction problems than other groups. In addition, research has proven that co-occurring psychiatric disorders are also much more prevalent within this minority group as well. The National Alliance on Mental Illness (NAMI) reports the high levels of stress surrounding their sexual orientation and fear of "coming out" make an LGBTQ person three times more likely to battle a mental health condition; at a higher risk for suicidal ideations, thoughts, and actions; and more likely to struggle with drug and alcohol abuse.
Regardless of the acceptance by others, an LGBTQ person will commonly struggle with internalized homophobia, an anti-LGBTQ based stigma, which results in shame, self-loathing, and a complete unease in their own skin. Substances provide a temporary relief from the negative messages they tell themselves and an ability to be 'ok' with themselves for a period. No one dreams of being different in a way that draws ire and condemnation from total strangers. It feels bad and that feeling lasts a very long time.
While traditional drug and alcohol treatment programs can offer support and effective treatment for addiction, it has been shown that LGBTQ substance abuse treatment programs specifically suited to the needs of LGBTQ people and their experiences can better address the root causes of addictive behavior. These clients have spent significant portions of their lives feeling marginalized so specific, focused groups are a place where self-love can grow and empower the client to want to be their authentic self, all of which is essential for recovery.
The LGBTQ Inclusive Care Program at Mirmont Treatment Center offers LGBTQ substance abuse treatment and support for members of the LGBTQ community, including treatment of dual-diagnosis disorders, blending conventional medical and behavioral health practices with holistic techniques like yoga and mindfulness meditation for stress relief and pain management.
"At Mirmont, we know how critical it is for long term recovery, that treatment deal with the core issues and that is only possible if the client feels safe enough to be honest," says Welch. "For most LGBTQ seeking recovery, the safety of being with others with similar experiences and genuine empathy is like a warm blanket on a cold night. The ability to relax and let one's guard down is not something that will come easy or naturally to these clients, the treatment setting must promote it."
For the LGBTQ addict or alcoholic who finds themselves ready to surrender, to admit they have a problem with drugs or alcohol and ready to change, the opportunity is there to disrupt patterns of thinking and using. With new thoughts come new behaviors and attitudes which can positively affect their experience of the stressors that still exists.
Older LGBTQ adults and substance abuse
Older LGBTQ people are also prone to substance abuse as factors such as social isolation and age-related stigma come into play. Generational factors may also create additional struggles with self-acceptance. If a person doesn't have close family or friends nearby or there's a health condition that prohibits regular activity, for example, they may spend a lot more time isolated, a factor that can exacerbate addiction.

With age also comes physical changes and often older LGBTQ adults are on medications that can have adverse, if not lethal, effects when combined with drugs or alcohol. There may be underlying health issues or even undiagnosed disease that is exacerbated, or its symptoms masked or otherwise confused by use of drugs or alcohol.
The LGBTQ Inclusive Care program at Mirmont provides an LGBTQ-friendly space for older adults struggling with drug or alcohol addiction while also providing clinical support for any existing health conditions. Adds Welch, "There are unique challenges for the older LGBTQ population as they have learned to live their life in hiding from their true self, leaving an emptiness that substances have probably helped fill for many years. At some point the years of abuse to the brain and body do catch up, but how remarkable to know there is a way out of hiding onto the road of recovery and self-acceptance."
Mental and emotional well-being are integral to a healthy life. When people suffer with mental illness or drug and alcohol abuse, it significantly impacts all aspects of their lives and their loved ones. Main Line Health offers behavioral health services, from group therapy and individual therapy to 12-step meetings for drug and alcohol addiction.