Rehabilitative therapy for all that life has yet to offer
At Bryn Mawr Rehab our inpatient and outpatient rehabilitative therapy team works closely with patients who depend on us to help them reclaim their lives. We're committed to making sure every patient who comes through our doors—whether recovering from a stroke, traumatic brain injury or concussion—leaves with a plan to ensure they can live every day to its fullest, with excitement and hope for all that life has yet to offer.
Bryn Mawr Rehab includes both Bryn Mawr Rehab Hospital and Bryn Mawr Rehab Outpatient Network.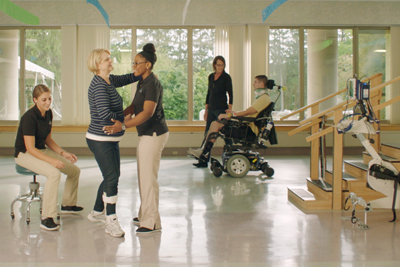 Bryn Mawr Rehab Hospital, our acute inpatient rehabilitation hospital in Malvern, Pa., is one of the largest inpatient rehab hospitals in southeastern Pennsylvania with 148 beds. Founded almost 50 years ago, the hospital offers a comprehensive, multidisciplinary approach to care with evidence-based practices to improve outcomes for our patients and their families.
For admission, call 484.596.6000.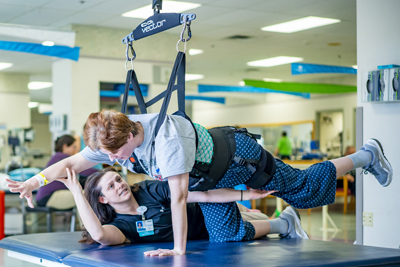 Bryn Mawr Rehab Outpatient Network—with eight convenient locations in the region—offers patients a team of highly qualified and trained physical therapist, speech therapist and occupational therapist. With the latest technology, free on-site parking and extended hours and appointment times tailored to your needs, our team will work to ensure your experience is exceptional.
For appointments, call 484.596.5000.
Why Bryn Mawr Rehab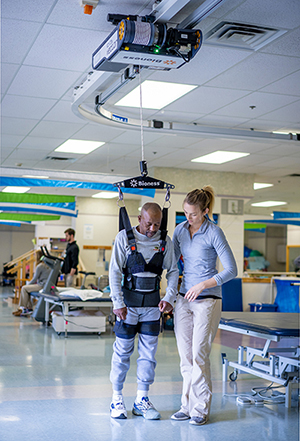 Our experienced staff is made up of rehabilitation doctors, physical therapists, occupational therapists, speech therapists, psychologists, and dietitians, as well as licensed nurses and more certified rehabilitation registered nurses (CRRN) than any facility in the region. People also choose us because:
State-of-the-art equipment that plays a major role in patient recovery
Like the Ekso Bionics exoskeleton suit, Lokomat Robotic Gait Training System, and the Bioness Vector body weight support device, a fall safe system that enables patients to more readily stand up by taking away the effects of gravity so that they experience mobility and can perform tasks they might not otherwise be able to do
Individualized therapy programs customized to patient needs and interests
A personalized and useful approach to healing and recovery that motivates each individual, drawing on things the person enjoys doing in life, such as kayaking, gardening, equestrian therapy, driver training, carpentry, game play and more
Dialysis services for inpatients who need this type of care
Providing the convenience of one less outside appointment for those patients who need dialysis treatment during their inpatient stay at Bryn Mawr Rehab
Industry recognition for quality of care
Consistent recognition by designating organizations for conforming to high standards of care in delivering comprehensive, custom rehabilitation
Schedule an in-person tour of Bryn Mawr Rehab Hospital
Deciding where to go for rehabilitation can feel overwhelming. To see how Bryn Mawr Rehab Hospital can help you or your loved one, we recommend taking an in-person tour of our facility. You'll see the state-of-the-art technology, beautiful grounds and therapeutic amenities that make us unlike any other rehab hospital in the region.
Request a tour of Bryn Mawr Rehab Hospital
For acute inpatient rehabilitation, call 484.596.6000.
For outpatient rehabilitation therapy, call 484.596.5000.