Drug-impaired driving can put both the driver and others in harm's way. The intoxicating effects make it difficult to recognize or respond quickly and appropriately to any sudden changes on the road.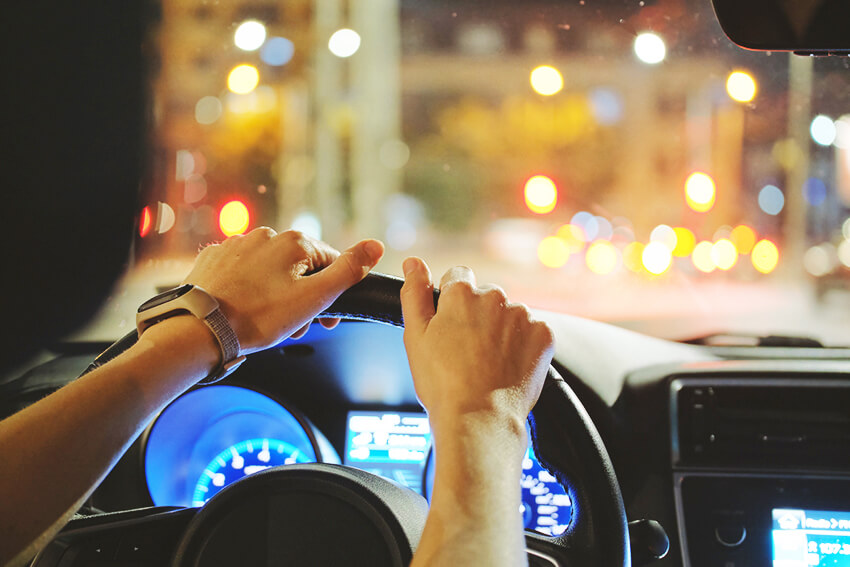 It's illegal in the United States to drive under the influence of alcohol, opioids, marijuana and methamphetamines. That law also includes any drug that is potentially impairing—whether it's prescribed or available over-the-counter. Understanding what impaired driving is can help you stay safe, and help you recognize if it's time to reach out for help.
What is impaired driving?
Alcohol isn't the only substance that can affect a driver. Other substances include prescription, over-the-counter and illegal drugs. Misuse of these drugs can impair judgement and lead to a car accident.
For example, certain prescription and over-the-counter medicines might cause a person to feel drowsy or dizzy. Always read the medication's warning labels before driving. Marijuana can also impair a driver's ability to multitask, which affects a person's ability to drive safely. It also can make a person's coordination, reaction and judgment slower. Methamphetamines and cocaine can cause some drivers to be more reckless and aggressive, too.
According to the National Institute on Drug Abuse (NIDA), after alcohol, marijuana is the next most common drug found in the blood of impaired drivers involved in crashes.
"People don't realize how marijuana can negatively impact their driving," says Karen Archambo, LPC, clinical supervisor at Mirmont Outpatient Center in Exton. "This is true for people who are legally prescribed a medical marijuana card. They can still be charged with a DUI if marijuana is found in their system and the police officer believes they're too impaired to properly operate a vehicle."
More research is needed on exactly how marijuana affects a driver, but research shows that it makes drivers more likely to react slower, not pay attention to the road and weave in and out of lanes. Combined with alcohol, marijuana makes drivers even more impaired.
Drug-impaired driving is dangerous and impaired drivers are not in a position to accurately judge whether they're okay to drive or not. Remember: When you feel different, you drive different.
Who's affected by drug-impaired driving?
Teen drivers are less experienced and more likely to speed and not leave enough room between them and another car.
Anyone using prescription drugs may accidentally use more than or less than prescribed, or they may be using the wrong amount. Because the drugs may not break down as fast as they would when taken in the proper dosage, this can lead to unintended intoxication. And, if you're taking multiple medications, they can have an effect on each other, which can further impact your driving.
"If you're on any kind of medication, it's important that you discuss the potential side effects and impact they can have on your driving with your primary care provider or pharmacist," says Ms. Archambo.
Safety measures to take
If you've taken any drugs, prescription or not, don't get behind the wheel. Responsible behavior saves lives.
Following safety precautions will keep you and others safe. Smarter choices you can make include:
Securing a sober driver ahead of time
Requesting a rideshare or using public transportation
Making sure everyone gets home safely if you host a party
Protecting yourself against other impaired drivers by wearing your seatbelt
Stopping your friends from driving if they're under the influence of drugs
Talking to teens about the dangers of underage drinking and substance use, especially when combined with driving
Educating yourself and spreading awareness on the risks of drug-impaired driving can save lives.
Getting help with substance use diagnosis
For those struggling with substance use disorders, Mirmont Treatment Center has helped thousands of people on the journey to recovery and healing. Offering inpatient and outpatient care—including medically monitored detoxification, inpatient treatment and dual diagnosis rehabilitation—a partial hospital program and intensive outpatient programs designed to help patients age 14 and older, we'll partner with you throughout your recovery journey.
Mirmont Outpatient Centers in Broomall, Exton and Media provide treatment for both substance use and mental health diagnoses. Outpatient therapy can take the form of individual counseling to explore the issues associated with early recovery or participation in a weekly group session led by a skilled facilitator. In the group environment, patients are supported by their peers who are also learning to live without drugs and alcohol while also receiving support from friends and family.
Outpatient services include psychiatric evaluation and medication management, individual and group psychotherapy, intensive outpatient programs and partial hospitalization programs, with specialty services for adolescents and adults.
If you or anyone you know is struggling with a substance use diagnosis, help is available 24/7. Call our team of experts at 1.888.CARE.898 (1.888.227.3898) or schedule an appointment online.
Next steps:
Learn more about Mirmont Treatment Center
Find out why family dinners are important
Is your teen stressed? Here are signs to watch for