As simple as it may seem, regular family dinners can have a profound impact on our physical, mental and emotional health.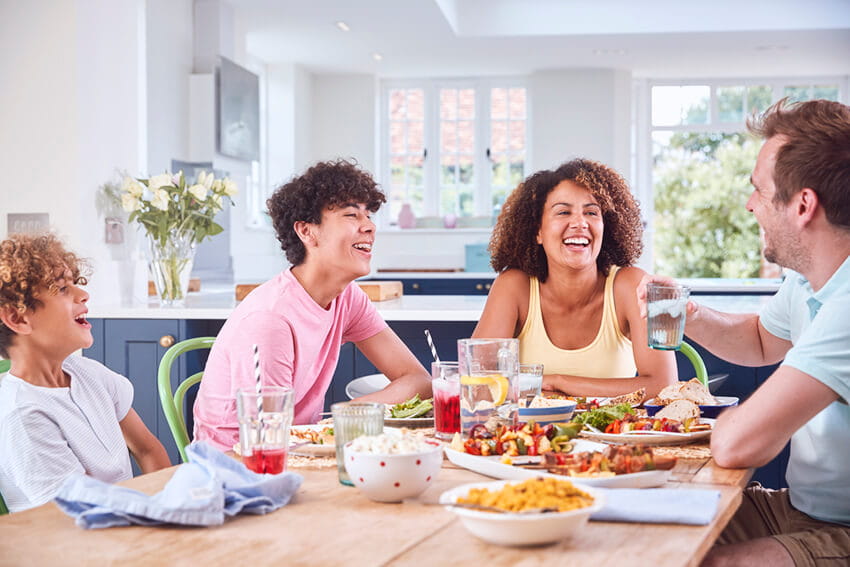 According to Mary Cosgrove, MS, family support services coordinator at Mirmont Treatment Center, part of Main Line Health, it's an easy intervention that can go a long way. Research shows that family meals boost connectedness, stability, social-emotional development and problem-solving skills. And more frequent family meals have been linked to a lower risk of eating disorders, alcohol misuse, substance use and depression.
Ultimately, sharing a meal with family carves out time to decompress, check in and connect with the people you love and live with, says Cosgrove.
Here's why family dinners are so important for our health and wellbeing:
Family dinners foster connection
Eating together as a family creates a sense of belonging and security. This is especially important for children who rely on connection to build their self-esteem and confidence. "That connection is huge," says Cosgrove.
According to Cosgrove, meeting at the dinner table and talking about our days encourages kids to put their screens down and engage with the people in their lives. Oftentimes, people turn to their devices as a defense mechanism—it's a way to avoid difficult or uncomfortable conversations. Furthermore, kids spend a significant amount of time interacting with others through a screen. Too much screen-time can be detrimental to healthy development as it can inhibit children's ability to understand social cues and work on their social skills.
By modeling and fostering healthy connection at the dinner table, adults can teach kids about the importance of in-person conversations. When taught how to connect and communicate effectively at home, children are more likely to develop healthy connections outside of the home—with friends, teachers and coaches—as well.
"If that's modeled in the home, there are higher chances of you being able to socially branch out with using your words and not just behind a screen outside of the home," says Cosgrove.
Family dinners boost health and nutrition
Society puts a lot of pressure on people to look and act a certain way, which can lead to eating disorders. Sharing a family-oriented, home-cooked meal can show kids what healthy eating looks like and encourage them to eat balanced meals in front of other people, says Cosgrove.
Family dinners can also improve nutrition—studies have found that frequent family meals lead to better dietary intake, with meals rich in fruits, vegetables and dairy, and a lower risk of childhood obesity.
Regular family meals are associated with lower rates of anxiety, depression and substance misuse. For families dealing with mental health issues or substance use, mealtime can be a powerful way to address daily needs and reestablish norms within the family system.
"I always say that the opposite of addiction is connection," says Cosgrove.
In today's fast-paced world, it can be hard to get the family together for dinner every night, but even once a week can be beneficial. Dedicate one day a week to gather at the kitchen table and connect as a family, Cosgrove recommends.
There is no right or wrong way to go about eating together as a family. It can be breakfast or dinner, takeout or home-cooked and last 20-minutes or an hour. Get creative with it—consider adding in games or activities or inviting your children to help out with meal prep and clean up.
"The importance of family meals is surrounding yourself with people that you love and live with and sharing how your day was and checking in with one another," Cosgrove said.
Help for substance use disorder and mental health concerns
Mirmont Outpatient Centers in Broomall and Exton offer group therapy programs for adolescents ages 14-18 who are struggling with a mental health diagnosis or substance use disorder. These programs provide the structure and frequency found in inpatient programs, but don't require 24-hour inpatient care.
As part of the program, our treatment team collaborates with adolescents' families and schools to coordinate care and best ensure success in the home environment. If your child or student is struggling with mental health concerns such as anxiety, depression, adjustment issues, self-harm issues and/or using substances or experiencing consequences because of substance use, we have group-supported programs to help.
Call us at 1.888.CARE.898 (227.3898) to schedule a confidential appointment and ask any questions. Or, use our secure online form to email us.