Ongoing developments in the treatment of breast cancer and other cancers have led to a consistent decline in mortality rates. Newer treatment techniques like prone breast radiation therapy not only strengthen our community of survivors, they also allow for reduced side effects for current breast cancer patients.
Studies have shown that receiving radiation to the breast while lying in the prone, or face down position offers many benefits to women while delivering the same quality outcomes as the traditional supine, where women lie face up on their back for radiation treatments.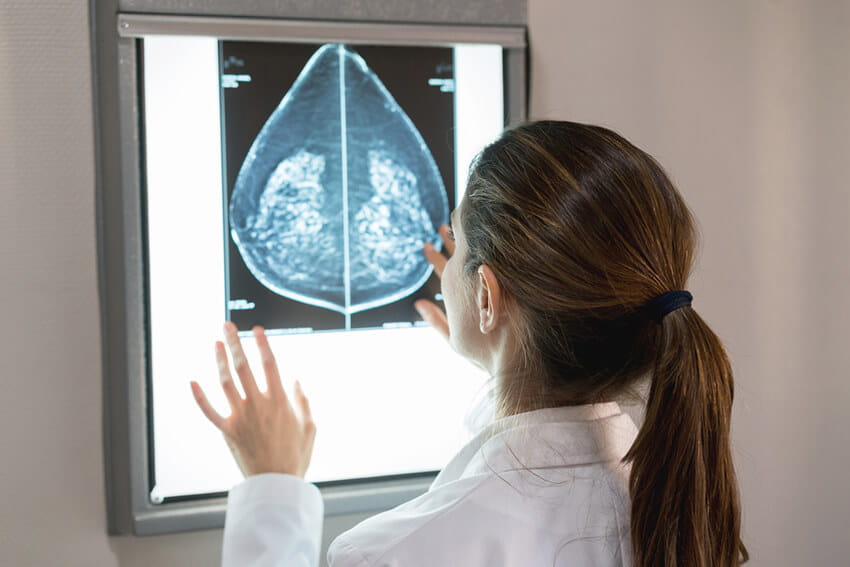 What is prone vs supine breast radiation therapy?
Prone breast radiation therapy is a unique approach to treating breast cancer. Radiation is administered on a specially designed breast board to help a woman lie comfortably in the prone position – typically on her stomach, with her breast hanging away from her body. In this position, radiation beams can be delivered within a few millimeters of precision, allowing the physician to protect surrounding tissue and nearby organs like the heart and lungs. This lowers the risks for immediate side effects and for future complications like heart disease.
What are the advantages of prone breast radiation?
The amount of radiation delivered in the prone position is the same as with standard supine treatments. The patient is simply in a different position, avoiding radiation exposure to major internal organs. Most studies show that when comparing radiation treatments in the prone position versus supine position, there is lower radiation exposure to both the lungs and heart. The heart is especially vulnerable to damage when the left breast is treated because the heart is located on the left side of the chest. Consequently, the prone breast position is often used when radiating left sided breast cancers, although it can be used for treatment in both left and right breast cancer patients.
Prone breast radiation therapy is also effective in delivering a consistent and precise dose of radiation throughout the course of treatment. Before the prone breast technique was available, women with larger breasts had more side effects with traditional supine positioning. For these larger-breasted women, gravity pulls the breasts close to the body, causing exposure to internal organs and also making treatment less consistent. With the prone position, the breast is thinned out and pulled away from the body, thus allowing your doctor to design the radiation evenly, making treatment consistent and accurate each time. With better distribution, there are fewer side effects and less long-term impact on the skin or surrounding breast tissue.
Are you a candidate for prone breast radiation therapy?
At Main Line Health, a radiation oncology physician will examine you to determine what course of treatment and positioning for radiation is best for you. Typically, any woman regardless of age can benefit from prone breast radiation therapy. Patients will be fully evaluated and provided with all the options that give them the best chance of successfully fighting their cancer with minimal side effects. Prone breast radiation therapy has been found to be especially useful for women with large breasts.
There are certain women who may benefit from supine, or conventional lying face-up treatment positioning. Women requiring lymph node radiation therapy are not appropriate candidates for the prone breast technique. Additionally, because every person is uniquely built, a woman's internal organ structure and certain tumor locations may not be amenable to benefit from treatment in the prone position. Women who have significant arthritis or back pain, or are uncomfortable lying face down on their stomach for a prolonged period of time, may also benefit from supine or conventional position for radiation.
Breast radiation therapy at Main Line Health
Your radiation oncologist will continue to work closely with you and your care team to monitor and, when possible, prevent future complications that may result from radiation. We always discuss any and all risks transparently with our patients so that we can allay fears and help avoid unnecessary anxiety.
The lasting relationships we form with each patient during their treatment and recovery journey is one of the many unique aspects of our role as radiation oncologists. Our goal is to develop individualized and detailed treatment plans that offer our patients optimal results with the lowest amount of possible risk.
Main Line Health Cancer Care provides compassionate care through all stages of cancer treatment, from diagnosis through survivorship, for patients throughout the Philadelphia region and beyond. To schedule an appointment with a cancer specialist at Main Line Health, 1.866.CALL.MLH (225.5654) or request an appointment online.