Cancer is a part of many people's stories, some uplifting and others heartbreaking. It's an experience that no one wants to know — and yet so many people do, either personally or through someone they care about.
From initial diagnosis to cancer treatment to survivorship, having this illness, or knowing someone who is battling it, can make you feel alone. However, there are others who share your hopes, fears and realities — and you can connect with them at cancer support groups.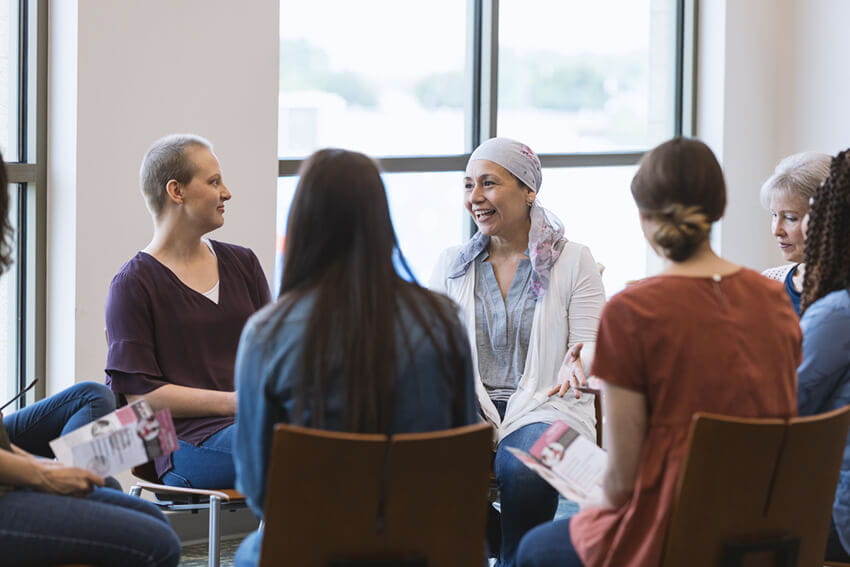 While a cancer diagnosis is deeply unique to each person, there are some aspects that are universal. With a cancer support group, you can find social connections and practical knowledge from people who have been through similar experiences as you.
Whether you're living with cancer or know and love someone who has cancer, here's why a cancer support group can benefit you.
What are cancer support groups?
Cancer support groups are meetings for people with cancer or anyone impacted by the disease, including family members and friends. No matter the support system you already have in your life, a cancer support group can be an additional way to find helpful connections and useful guidance.
Some cancer support groups focus on cancer in general. Others are more specific, such as breast cancer support groups. Some groups are open to anyone, while others are for certain people, like support groups for caregivers.
Cancer support groups are generally led by professionals, like oncology nurses or psychologists who can share practical tips for living with cancer.
During a cancer support group session, you'll have the opportunity to share your experiences as well as listen to those of other people impacted by cancer.
Cancer support groups: emotional and social support
At any stage of cancer, you might go through a wide range of emotions — either as a patient or a loved one. You may feel angry, overwhelmed, worried, depressed or lonely. You may also feel positive emotions, like hope or gratitude.
While these feelings are all normal, they can be confusing. You might wonder why you're feeling a certain way, and you may also struggle to cope with those feelings.
Cancer support groups are a structured setting to talk through these emotions with people who know what you're going through. They can affirm your feelings, listen to your thoughts and help you process your experiences in a way that others may not be able to.
These conversations can help you feel less isolated and more connected with others. By sharing your own story and listening to the stories of others, you can create bonds that are both supportive and healing.
This social support can also help you feel more positive about the future. You might hear from people living with cancer who are leading active and fulfilling lives or cancer survivors who have stories of celebration — both of which can fill you with inspiration and hope.
Sharing tips, tricks and knowledge about cancer
Cancer changes your life in so many ways. While some of these changes are emotional, others are more practical. For instance, you might find it challenging to continue working as you undergo cancer treatment. Or, it might become difficult to focus on school when you're thinking about a loved one who is battling cancer.
Hurdles like these are normal, and you're not alone in experiencing them. Cancer support groups allow you to connect with others who have walked similar paths as you and may be able to lend some practical advice.
Cancer treatment can also come with a wide range of side effects. While your care team is a helpful resource for how to cope with side effects, members of a cancer support group might have additional tips to navigate them. They can also offer support and encouragement as you deal with unpleasant side effects.
Finding the cancer support group to meet your needs
A cancer support group is not one size fits all. To get the most out of a support group, it's important to find one that meets your needs.
First, decide whether you'd prefer a virtual or in-person support group. Virtual support groups offer the comfort and convenience of joining from home. However, you may prefer the in-person connection with other people. At Main Line Health, we offer both options so you can choose what works best for you.
You'll also need to consider what kind of support group you want to join. From the type of cancer (like colorectal cancer or breast cancer) to the type of participant (like caregivers), there are many variations of cancer support to help you on your cancer journey.
At Main Line Health, we also offer cancer seminars to supplement cancer support groups, where you can learn about things like nutrition during cancer or the benefits of mindfulness, aromatherapy and reiki.
Cancer support groups are made to meet you where you are. Whether you want to sit and listen to others for a while or jump right in with your own experiences, you can find hope, guidance and friendship in a community made up of people like you.
Cancer care programs and classes
We offer free educational seminars and support groups to assist patients who have been diagnosed with cancer. Unless otherwise indicated, support groups are virtual. Join us from the comfort of your home computer or phone.
Next steps:
Learn more about cancer care at Main Line Health
Find a cancer support group
Cancer prevention starts with you: 5 tips to reduce your cancer risk