We are with you every step of the way
From your first prenatal visit through labor, delivery and recovery, our renowned physicians and highly skilled nursing staff deliver high quality care in a nurturing environment. Main Line Health has expert physicians for every step of the way.
Call 1.866.CALL.MLH (225.5654) to schedule an appointment
Your guide to delivery at Main Line Health
Whether you're having your first child or your third, it's definitely helpful to know what to expect along the way. At Main Line Health, we're committed to making your pregnancy and delivery the most positive experience possible. That's why we've created this guide full of information to help you prepare.
Childbirth education classes
We offer a variety of childbirth classes to help you and your partner learn about and become comfortable with the childbirth process. Our classes focus on both the physical and emotional aspects of labor and delivery, including breathing and relaxation techniques, breastfeeding, the role of support person and tours of our maternity units.
Register for upcoming childbirth education classes       Schedule a maternity unit tour
Attention maternity and NICU visitors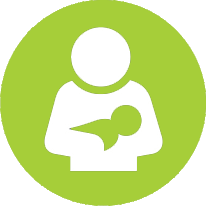 The health and safety of our patients, visitors and employees is our primary concern.
Due to widespread influenza activity in our community, we are limiting visitation on our maternity unit and NICU:
Parents, siblings over the age of 10 and grandparents of the newborn are permitted to visit Labor & Delivery, Mother/Baby Units and the NICU
If you are experiencing flu-like symptoms, including fever, congestion, runny nose and a sore throat, we ask that you please postpone your visit.
We sincerely apologize for any inconvenience this may cause.
Benefits of choosing Main Line Health for you and your baby
Having a baby at one of Main Line Health's four hospitals in the Philadelphia suburbs provides you with access to
Fertility specialists
Convenient outpatient prenatal and perinatal testing sites
A regional network of OB/GYN physicians
Maternal-fetal medicine specialists
Private suites with modern amenities
High-risk pregnancy centers
Pregnancy wellness information, educational classes and maternity unit tours
Neonatal intensive care units (NICU)

Level II NICU at Paoli Hospital and Riddle Hospital
Level III NICU at Lankenau Medical Center and Bryn Mawr Hospital

Lactation and breastfeeding services
Outpatient mental health services through the Women's Emotional Wellness Center
Pediatricians
Dedicated pediatric emergency program and collaboration with Nemours/Alfred I. duPont Hospital for Children
Nemours infant/neonatal and pediatric subspecialists
Highly skilled and dedicated nursing teams
Multi-specialty physicians to address a mother's high-risk conditions