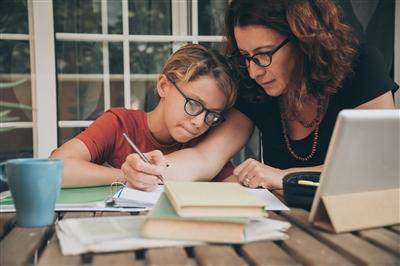 Whether it's the angst of work and school life clashing under one roof, the constant upkeep in Schoology, or everyone's just plain Zoom'd out, back-to-school anxiety is high this year—call it "panxiety" if you will—for parents, caregivers and kids alike. 

Deloitte's 13th annual back-to-school survey found that 66% of parents have anxiety about sending their children back to school because of COVID-19, with heightened anxiety in Pennsylvania and the Northeast around additional concerns such as when schools will open and safety of going back to school.

"Under such duress of managing work and home life and kids' school obligations amidst a pandemic, so many families feel completely alone and overwhelmed by all of this, but keep in mind that nobody is doing it any better than anyone else," says Gail Roeshman, LCSW, psychotherapist at the Women's Emotional Wellness Center at Main Line Health King of Prussia.

While many of us are concerned about our children's preparedness for the next grade, it might offer some perspective to consider that there are 160 countries around the world where the schools are still closed to an estimated one billion children, and the global educational impact could put decades of progress at stake, particularly in developing countries.

So globally—not just in Pennsylvania—we're raising and educating a generation of children who will be tomorrow's world leaders, scientists, teachers, explorers and global citizens. You do have an important mission to fulfill at this time, and you really can do it! Here are some suggestions for how to get through the next few months:
Have standardized safety rules at home and school. While some parents in the Philadelphia region are taking a "wait-and-see" approach and others have already decided to go 100% virtual, many anticipate some hybrid classroom-home school setup. For children of all ages returning to the classroom, it's a given that face masks, social distancing and good hand hygiene will be expected of everyone, which is why it's important to make these a part of your daily life now, while you're at home or running errands or going on vacation. That way when school rolls around, your child will be easily accustomed to things like putting a mask on properly and wearing it for extended amounts of time.
Talk through feelings of adjustment anxiety. Let children know they may have feelings of anxiety or experience some fears upon returning to the classroom, which is normal for kids as well as adults. This can be managed by employing some coping skills, like breathing, counting, or even asking the teacher for some extra time or for a break. Adds Roeshman, "It's important to make sure children know that the adults around them are there to support them and help them get acclimated and comfortable. Everyone expects that it will take some time for students to get used to the 'new normal'. You can also let them know these uneasy feelings will pass." Children should be encouraged to share back-to-school anxiety feelings with parents and teachers. If those feelings become overwhelming, the adults around them can and will help them to refocus.
Tune in to the needs of your child. Listen to what your child is telling you. Some children need more reassurance than others, whether you're homeschooling or at-schooling. "Sometimes kids just need a break, a hug, or a round of applause," Roeshman says. "Keep in mind that they didn't sign up for this either." If you're overseeing schoolwork at home and depending on the age of your child, it might be helpful to set a timer and commit to doing something fun or relaxing or physical at different intervals. This can help hold you accountable for taking breaks from whatever you're doing as well.

Don't forget to engage in self-care for yourself. You deserve moments to yourself, too. 

Be diligent about self-care. Parents, you are tasked with the hardest job there is: raising a healthy, happy, well- balanced child. So don't forget to engage in self-care for yourself as well. You deserve quiet moments to meditate, breathe and regroup. To take an extra-long shower, hide out in your bedroom for an evening, read before dinner instead of hopping up to make it, or take a "mental health day" if you have to, allowing yourself to just disconnect from everything and lounge around and watch Netflix. (By the way, it's okay to let your kids take a mental health day, too, sometimes.)
Stick to a schedule. Children function much better when their lives are predictable. Adults generally perform better with structure as well. Putting some "normalcy" into the "abnormalcy" of the pandemic helps to ground your household to better cope with the circumstances. Also be sure to empower your child by having them participate in scheduling. If they feel like they have some autonomy and choice, they'll be more engaged.
Practice self-calming techniques before return to classroom. Teach kids breathing and grounding techniques, such as "5-4-3-2-1"—I see five things, I touch four things, I hear three things, I smell two things, I taste one thing—and practice at home so children know how to self-calm if they get anxious at school. Adds Gail, "By practicing before fear sets in, these coping skills become automatic. Plus they're healthy practices to carry into their adult lives."
Have a "check-in" before and after the school day. It's easier to do this during the first few weeks but gets harder to maintain as everyone gets into a familiar groove. Yet it's so important to keep engagement high—yours and theirs. Like it or not, parents and caregivers must play a heightened role in their children's academic lives at this time. This means monitoring how they're doing with their assignments and comprehension of what's going on. It also means taking a genuine interest in what they're discovering and what is piquing their curiosity, what they're excelling at, and praising them for their efforts. Roeshman recommends carving out 15 to 20 minutes of one-on-one, quality time at the end of each day, without distractions, without a phone on the table. "An opportunity for you to be with your child and to appreciate the opportunity of learning," she says. 
Enthusiastically emphasize the opportunities to learn. Celebrate and have your kids share with you and your family what they're learning about every day. When parents are engaged in the learning, kids succeed. Children with special needs may need extra support, which can be built into their learning opportunities. And be sure to share in their successes. During this extra-ordinary time that we're experiencing, allow yourself the extra imaginative and listening space you might not have given your kids in the past because you were too busy or too tired. Stop and wonder and give the world a look through their eyes.

Allow yourself the extra imaginative and listening space you might not have given your kids in the past because you were too busy or too tired.

Remind children about the importance of being flexible. If the school year changes (which is highly likely), schedules will shift, and we'll all have to make adjustments to how things are. But we will adapt and continue to learn and grow. Things might change again, and we'll do the same thing.
Adds Roeshman, "Your own ability to show qualities such as resilience, independence, cooperation, appreciation and flexibility in the face of crisis is some of what your kids will inherit from this experience—stripes they might not otherwise have had the opportunity to earn."
To schedule an appointment with a Women's Emotional Wellness Center specialist, call 1.888.CARE.898 (227.3898) and follow the provided prompts. Or, use our secure online form to email us.