Mental and emotional well-being are integral to living a healthy and fulfilled life. When individuals suffer with mental illness or substance use disorders, it impacts every aspect of their lives, as well as the lives of those around them. In the increasingly complex world in which we live, it's more important than ever to be able to rely on accessible, affordable, behavioral health services.
Our Mirmont Outpatient Centers in Broomall, Exton and Media serve patients, 14 years of age and older, who have mental health concerns and substance use disorders.
In-person services returning to Mirmont Outpatient Centers
Starting on Monday, May, 24, 2021, Mirmont Outpatient Centers will have some services returning in- person. Please know that Mirmont recognizes the importance of being an essential treatment provider to our patients and their families. We continue to make employee and patient safety our top priority.
Mirmont Outpatient Center in Broomall will now offer:

In-person and virtual mental health Partial Hospitalization Program options for adults

Mirmont Outpatient Center in Exton will now offer:

In-person Partial Hospitalization Program options for substance use disorders
In-person and virtual mental health Partial Hospitalization Program options for adults

Mirmont Outpatient Center in Media will now offer:

In-person evaluations and some in-person individual services
Virtual Partial Hospitalization Program options for substance use disorders
NOTE: All Intensive Outpatient Program services are remaining virtual until further notice.
Outpatient addiction treatment near you
At our Mirmont Outpatient Centers we treat patients suffering from substance abuse and mental health disorders using a holistic, comprehensive approach to care with treatment plans tailored to individuals' needs. The outpatient addiction treatment team consists of a medical director who is a board-certified psychiatrist, and may include a variety of addiction therapists and nurses.
Outpatient addiction treatment allows patients to continue to meet the obligations of work, school or family while also focusing on recovery from drugs and alcohol. Depending on the severity of addiction, a person's life circumstances, and whether medical care is needed during detox and recovery, outpatient treatment may be an appropriate option. And with locations in Broomall, Exton and Media, there's likely outpatient addiction treatment near you.
Talk to us - click to call 1.888.CARE.898 (227.3898)
Not ready to make the call? Contact us online.
In a group environment led by a skilled facilitator, patients meet weekly and are supported by others who are learning to live life without drugs and alcohol. Patients in outpatient addiction treatment are able to apply what they've learned to their daily lives while continuing to live in their own homes and be supported by friends and family.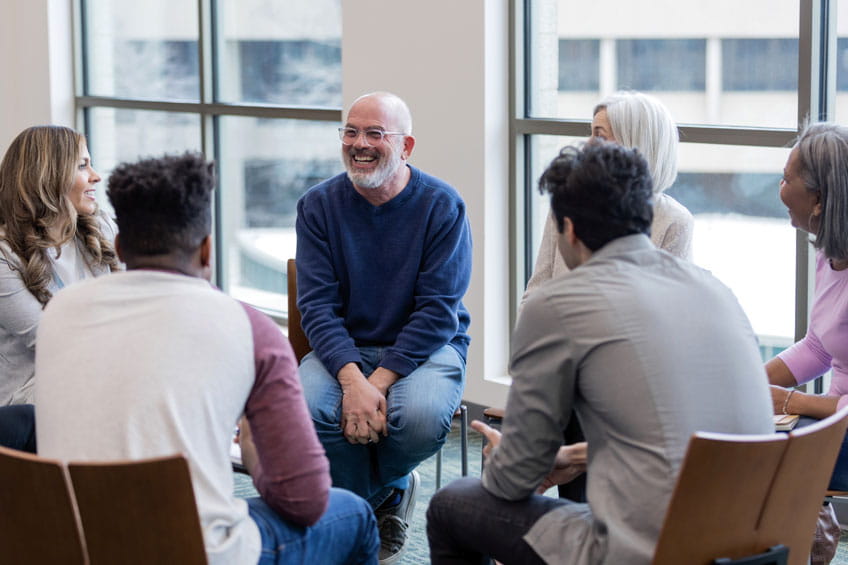 Outpatient drug and alcohol group therapy
Our group therapy sessions offer a safe and comfortable environment in which to explore issues that many patients experience while recovering from drug and alcohol addiction, including:
Broken relationships or family problems due to addiction
Stress, anxiety or depression
Other life issues
We also help patients:
Recognize denial and negative mental processes
Practice new skills to build and restore self-esteem
View recovery as a lifelong process
Patients can enter drug and alcohol treatment as an outpatient, or can continue outpatient services after completing inpatient drug and alcohol rehabilitation. We also offer an intensive outpatient program for patients who require more concentrated drug and alcohol recovery and support while living at home. Patients are assessed based on history of drug and alcohol addiction and current use of drugs and alcohol to determine the most appropriate level of care for their needs.
Outpatient mental health treatment near you
At our Mirmont Outpatient Centers, we provide personalized partial hospitalization programs (PHP) and intensive outpatient programs (IOP) for individuals 14 years and older with psychiatric and emotional disorders. The group programs are designed to serve those who need the structure and clinical intensity found in inpatient psychiatric programs, but who do not require 24-hour inpatient care.
We offer our patients:
Daily group therapy
Coping skills-based groups
Mindfulness-based stress reduction (MBSR)
Solution-focused groups
Medication management
Family meetings
Creative/expressive therapy
Education coordination
Personalized treatment and after-care plans
Mirmont Outpatient Center offers numerous specialty care groups designed to provide you with the personalized care and attention you need. Our location in Broomall offers an intensive outpatient program specialty group specifically for adults ages 18 to 25 years old. The program is geared towards helping young people who may be facing various pressures and stressors during this transitional phase of life. It focuses on addressing challenges facing young adults who are encountering new responsibilities and enables them to be successful in their day-to-day lives.
Upon completing an assessment, you will be directed to the right care personalized for you.