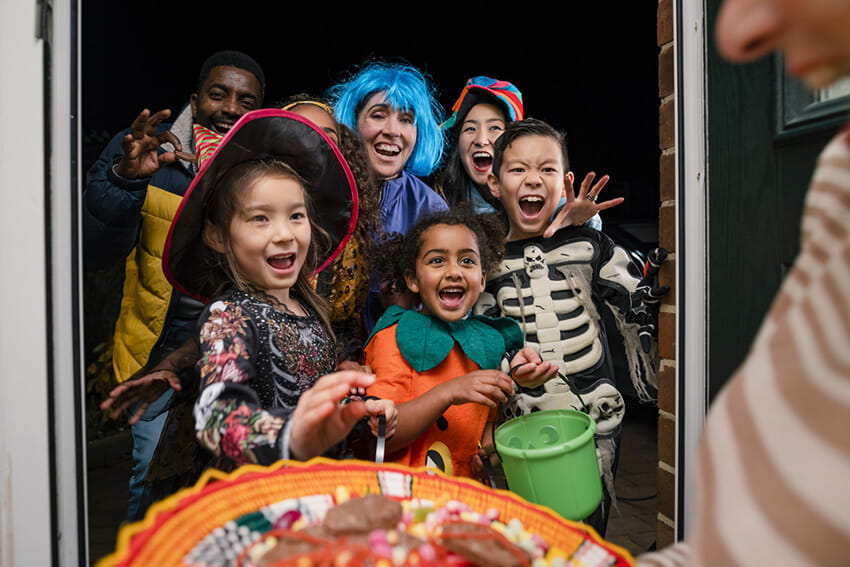 Halloween parades, last-minute costume fixes and trick-or-treating are starting to dominate your to-do list. It can only mean one thing—Halloween is coming.
While Halloween is a fun holiday to celebrate, it can also present some serious health risks: the risk of injury is high when you're in costume and taking a walk through the neighborhood at night, when you may be more focused on your treats than the road.
Below, Kelly Ann Zazyczny, nurse manager of the pediatric unit at Bryn Mawr Hospital, part of Main Line Health, offers tips for making your trick-or-treat outings safe and memorable.
For your costume
No novelty contact lenses: Unless they've been approved by an optometrist or physician, skip the use of novelty contact lenses. While they might add a little something extra to your costume, they have the potential to cause scratches on the cornea, a cornea infection, pink eye and—in severe cases—blindness.
Skip sharp objects: Plastic swords or wands can be fun but, if they're too sharp, can be dangerous if kids slip or fall.
Test makeup and face paint first: Before using any costume makeup on your child's face, patch test in on your arm or another area of the skin first to check for an allergic reaction. Even though some makeup might be labeled as safe to use, the reaction can vary from person to person.
Choose makeup over masks: While masks might be easier than applying makeup or face paint, they can also make it harder to see when you're out at night and trick-or-treating. Choose costume makeup over masks for safety.
Leave a little room: If your child is going to be spending a long time in their costume, make sure to get a size larger to leave some extra room so they can move around comfortably, or to allow for layers on a chilly night.
During your night trick-or-treating
Light the way: When you're walking through the neighborhood at night, it can be difficult for drivers to see you. And, while they should drive cautiously, it's always good to bring a glow stick or flashlight with you just in case to draw attention to yourself.
Go with a group: If your child is out trick-or-treating with friends, make sure you know who they're out with, and how you can get in touch with them in an emergency. If no one in the group has a cell phone, ask if there will be a parent who will be supervising the group who you can contact.
Wear comfortable shoes: You might have a pair of shoes that matches your costume well, but comfortable sneakers will serve you better for a night of walking around.
For your candy
Check it first: It's well-known advice by now, but bears repeating: Before your child digs in, do a quick sort through their candy and chocolate stash to make sure that there are no pieces that appear to be unwrapped or tampered with.
Be allergy-aware: If your trick-or-treater has food allergies, you'll have to pay special attention to which treats they're taking. In recent years, more families have started to take part in the Teal Pumpkin Project, a nationwide movement where homes with teal pumpkins offer treats for children with food allergies.
Join us for a safe exchange: If your child has insulin-dependent diabetes or food allergies, join us at the Bryn Mawr Hospital Halloween Candy Exchange on Wednesday, November 1. Wear your costume, enjoy face painting and pumpkin carving and exchange your Halloween candy for great prizes and healthy snacks.