As the season changes and temperatures drop, it's not uncommon to find yourself sneezing and coughing. And there are four viruses that can really put a damper on fall activities: the flu, common cold, COVID-19 and RSV (respiratory syncytial virus). Especially if your child is the one sick.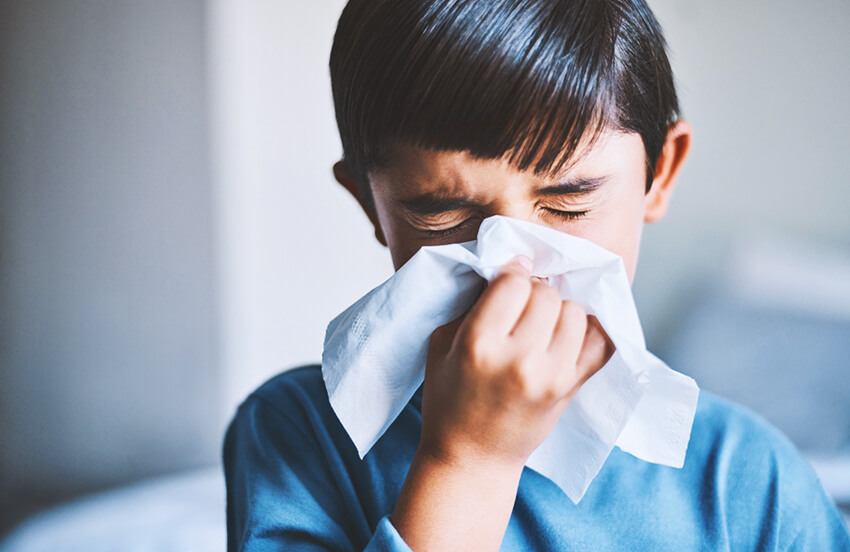 Learn about these four viruses, their symptoms, plus five tips you can incorporate into your daily routine to protecting your whole family against them.
1. The flu
Flu season generally begins in October, which is why it's important that everyone in your home schedule their flu shot. Flu shots can be given at the doctor's office, a local health clinic and even drugstore pharmacies.
Flu symptoms include:
Fever (although not everyone gets a fever)
Cough
Sore throat
Runny or stuffy nose
Aches in your muscles or body
Headaches
Feeling fatigued
Vomiting and diarrhea, which is more common in children than in adults
Children under the age of 5 are considered at high risk for having complications related to the flu , including pneumonia and dehydration, so it's important to take preventive measures. The flu vaccine is recommended for children six months and older.
2. The common cold
A stuffy nose and scratchy throat — we've all, unfortunately, had those symptoms before. In fact, a cold is the most common reason for missing work or school. Unlike the flu, a common cold isn't as severe, but colds are much more common in the colder seasons.
The two can get mixed up, but there is a distinction. It's most likely a cold if your symptoms are all above the neck.
Common cold symptoms include:
A runny or stuffy nose
Congestion
Headache
Sore throat
Sneezing
Coughing
Watery eyes
Although a cold usually starts with just a runny nose or sore throat, it can get worse. Symptoms can last between 7 and 10 days. Even if you or your child feels fine, you're still contagious — even more so during the first few days.
3. COVID-19
With COVID-19 continuing to circulate, knowing the symptoms can help you act quickly to find relief as quickly as possible.
COVID-19 symptoms include (but are not limited to):
Congestion or runny nose
Cough
Diarrhea
Fatigue
Fever or chills
Headache
Muscle or body aches
Nausea or vomiting
New loss of taste or smell
Shortness of breath or difficulty breathing
Sore throat
If you or your child have any of these symptoms or suspect you have been exposed to COVID-19, talk to your provider about testing. And, if you and your child are eligible, ask about receiving the COVID-19 vaccine and boosters.
4. RSV (respiratory syncytial virus)
Respiratory Syncytial Virus, or RSV, is another common condition that appears more in the fall. RSV is a common respiratory virus that shares cold-like symptoms, although some adults might not have any.
Early symptoms of RSV in adults include:
Coughing that can turn into wheezing
A runny nose
Decreased appetite
Symptoms of RSV in infants are much more serious. They may look like:
Decreased activity
Decreased appetite, difficulty feeding
A runny nose
Coughing
Breathing difficulty with or without wheezing
Apnea (there are pauses in their breathing)
5 tips to fight off viruses
To lower everyone's chances of getting sick with the flu, a cold, COVID-19 or RSV, work with your child to start practicing these 5 tips to stay healthy this season:
Get vaccinated, including your annual flu shot and your COVID-19 vaccine.
Stay away from people and children who are sick. If your child is sick, keep them home. You want to avoid close contact, including kissing and sharing cups and utensils.
Wash your hands frequently with soap and water. Don't touch your mouth, eyes or nose with unwashed hands.
Wipe and disinfect surfaces and toys.
Always cover your nose and mouth when you sneeze with a tissue or your upper shirt sleeve.
Know when to visit the emergency room or urgent care
Scheduling a visit with your child's provider is always the first choice, but sometimes you have to act quickly. You might need to visit urgent care or the emergency room, depending on their symptoms.
ERs prepared to treat children are beneficial for communities — and now families conveniently have access to Children's Hospital of Philadelphia (CHOP) pediatric providers 24 x 7 right at Bryn Mawr Hospital," says Hazel Guinto, MD, system chair of pediatrics at Main Line Health and medical director of pediatric emergency medicine at Bryn Mawr Hospital.
"Main Line Health's affiliation with CHOP is right in time for the fall season when the flu, cold, COVID-19 and RSV are more common," says Dr. Guinto. "The board-certified staff are specifically trained in working with infants and children. They also have the crucial resources readily available to treat your child."
You should always go to the emergency room if your child:
Has trouble breathing or shortness of breath
Has stopped breathing and lips or fingers are turning blue
Is unresponsive or difficult to arouse
Appears weak or pale
Has a severe headache along with blurred vision, difficulty speaking, numbness, tingling or paralysis
Has passed out (fainted)
Is coughing up or throwing up blood
Has chest pain or stomach pain or pressure
Is less than 3 months and has a fever
Has a fever with a stiff neck
Falls and hits his/ her head and has passed out or is not acting right
Has a deformed arm or leg after an injury
If their symptoms don't seem life-threatening, make an appointment to see your pediatrician or go to urgent care where they can deal with:
The flu, colds, earaches, low-grade fevers
Minor injuries like sprains
Minor cuts and burns
If you're still not sure where to take them, call your pediatrician and ask.
Protecting your child from common fall illnesses will keep them healthy and out of the hospital. If there are any complications or severe symptoms, you have a team of doctors who are ready to diagnose and treat.
Next steps:
For more information about fall illnesses, visit CHOP's website
Learn more about CHOP and Main Line Health's affiliation