LGBTQ health and medical support, services and information
We have compiled this list of resources to help you find the information you need to obtain and maintain optimal health—for yourself or a loved one.
American Psychological Association – Lesbian, Gay, Bisexual and Transgender Health
The information and resources provided on this page represent an ongoing effort by the APA's Office on Sexual Orientation and Gender Diversity to bring together recent and ongoing policy and advocacy work in LGBT health disparity areas, and both in government agencies and the non-profit health care community to address these issues.
Centers for Disease Control – LGBT Health
In addition to considering the needs of LGBT people in programs designed to improve the health of entire communities, there is also a need for culturally competent medical care and prevention services that are specific to this population. Social inequality is often associated with poorer health status, and sexual orientation has been associated with multiple health threats. These pages provide information and resources on some of the health issues and inequities affecting LGBT communities.
GLMA – Health Professionals Advancing LGBT Equality
GLMA's mission is to ensure equality in health care for lesbian, gay, bisexual and transgender (LGBT) individuals and health care providers. Through the expertise of its members and in collaboration with other LGBT civil rights and health organizations as well as with health associations and policy-makers at all levels, GLMA is a major force in the effort to ensure the health and well-being of LGBT individuals and families.
Healthychildren.org – Gender Non-Conforming & Transgender Children (from the American Academy of Pediatrics)
Having a gender non-conforming child can be very stressful for parents and caregivers, as they deal with uncertainty and navigate schools, extended families, sibling relationships, and the world around them. Many parents and siblings also find it helpful to meet with a mental health care professional or other families in a support group setting. Healthychildren.org provides educational information and resources for parents and families of gender non-conforming and transgender children.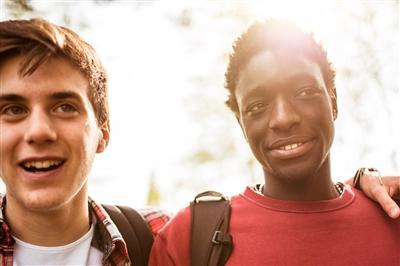 Main Line Youth Alliance (Philadelphia's Main Line)
The Main Line Youth Alliance (MYA) provides gay, lesbian, bisexual, transgender questioning youth and straight allies, with social educational and supportive activities in a confidential, respectful and safe environment. MYA programs, unique in Philadelphia's western suburbs, encourages healthy relationships with peers, family and community. Meets Friday nights from 7:00 pm to 9:00 pm.
National Alliance on Mental Illness – Find Support for LGBTQ
The lesbian, gay, bisexual, transgender, queer and questioning (LGBTQ) community faces mental health conditions just like the rest of the population. However, you may experience more negative mental health outcomes due to prejudice and other biases. Knowing what challenges you may face as a member of the LGBTQ community and how to find and work with LGBTQ-inclusive providers can help ensure more positive outcomes.
PFLAG
PFLAG reaffirms that unity and inclusion and a shared commitment to human dignity of all people are critical to fight discrimination and bigotry in any form so that all families can live free of fear. We commit to fight for fairness inclusive of people's sex, race, ethnicity, national origin, socioeconomic position, religion, level of mental or physical ability, age, sexual orientation, gender identity, gender expression, or any other perceived or actual characteristic.
The Attic Youth Center (Philadelphia)
The Attic Youth Center is the only organization in Philadelphia exclusively serving lesbian, gay, bisexual, transgender, and questioning (LGBTQ) youth. The Attic's goal is to reduce the isolation felt by LGBTQ youth by providing a sense of community and developing programs and services to counteract the prejudice and oppression that LGBTQ youth often face. All Attic programming is based on a youth development model and aims to build community, reduce isolation, combat homophobia, promote knowledge and life skills, and develop future leaders.
The Fenway Institute
The Fenway Institute at Fenway Health works to make life healthier for those who are lesbian, gay, bisexual, and transgender (LGBT), people living with HIV/AIDS, and the larger community. The Fenway Institute is an interdisciplinary center for research, training, education, and policy development, focusing on national and international health issues. Its mission is to ensure access to quality, culturally competent medical and mental health care for traditionally underserved communities, including LGBT people and those affected by HIV/AIDS.
The National LGBT Cancer Network
The National LGBT Cancer Network works to improve the lives of LGBT cancer survivors and those at risk by educating the LGBT community about its increased cancer risks and the importance of screening and early detection; training health care providers to offer more culturally competent, safe and welcoming care; and advocating for LGBT survivors in mainstream cancer organizations, the media and research.
William Way LGBT Community Center (Philadelphia)
The William Way Community Center seeks to encourage, support, and advocate for the well-being and acceptance of sexual and gender minorities through services, recreational, educational, and cultural programming. The center serves the LGBT community of Philadelphia and its allies 365 days a year. From social groups, networking events, and counseling and support services to art exhibitions and cultural experiences, the Center consistently strives to provide new and innovative programs for the LGBT communities of Philadelphia.
World Health Organization – HIV/AIDS Topics
This section contains comprehensive information on key topics related to the work of the WHO HIV Department, including HIV in key populations HIV in key populations such as men who have sex with men, people in prisons and other closed settings, people who inject drugs, sex workers, and transgender people. You'll also find resources about prevention and treatment, such as HIV testing, post-exposure prophylaxis (PEP) and pre-exposure prophylaxis (PrEP).
World Professional Association for Transgender Health (WPATH)
This is a non-profit, interdisciplinary professional and educational organization devoted to transgender health. Its mission is to promote evidence based care, education, research, advocacy, public policy, and respect in transgender health. Its professional, supporting, and student members engage in clinical and academic research to develop evidence-based medicine and strive to promote a high quality of care for transsexual, transgender, and gender-nonconforming individuals internationally.
LGBTQ hotlines—listening, information, and support for people of all ages
The GLBT Helpline: 888.340.GLBT (888.340.4528)
Fenway Community Health's GLBT Helpline and the Peer Listening Line provide information, referrals and support with issues such as coming out, HIV/AIDS, our and other relevant topics. Open every evening.
The Peer Listening Line: 800.399.PEER (800.399.7337)
Staffed weekday evenings by youth ages 25 and under.
The Trevor Helpline: 866.4U.TREVOR (866.488.7386)
The only national 24-hour, toll-free suicide prevention hotline aimed at gay and questioning youth.
---
If you have questions or feedback and would like to leave a secure and confidential message, please call 484.337.LGBT (5428) or email

[email protected]

.