We understand you may have a lot of questions about hip or knee pain. You may be wondering if hip surgery or knee surgery (or both) is necessary, or if there are other options available to you. That's why we recommend you start by attending one of our free hip and knee pain seminars, conveniently held at Main Line Health hospitals and health centers.
Led by hip and knee navigators, these one-hour seminars offer a fantastic learning experience around the causes of joint pain and ways to prevent injury. The seminars also include discussion of a variety of nonsurgical treatments available as well as the latest innovations in hip replacement surgery and knee replacement procedures performed by hip replacement experts and knee surgery specialists at Main Line Health.
Register for a free hip and knee pain seminar
You might also want to visit our frequently asked questions about hip and knee replacement.
When you need knee surgery or hip surgery
If surgery is right for you, you'll be in good hands. Our multidisciplinary team includes some of the best hip replacement doctors and knee replacement surgeons in the Philadelphia region. Working closely with our orthopaedic experts, your hip and knee navigator will guide you through every step of the hip and knee replacement process — from educational classes before surgery to on-site physical therapy while you're in the hospital to recovering soundly at home or in a rehabilitation hospital.
Here are a few more good reasons to choose Main Line Health for hip and knee replacement.
The Main Line Health Hip & Knee 360° is offered at our four hospital locations: Lankenau Medical Center (Wynnewood), Bryn Mawr Hospital, Paoli Hospital, and Riddle Hospital (Media).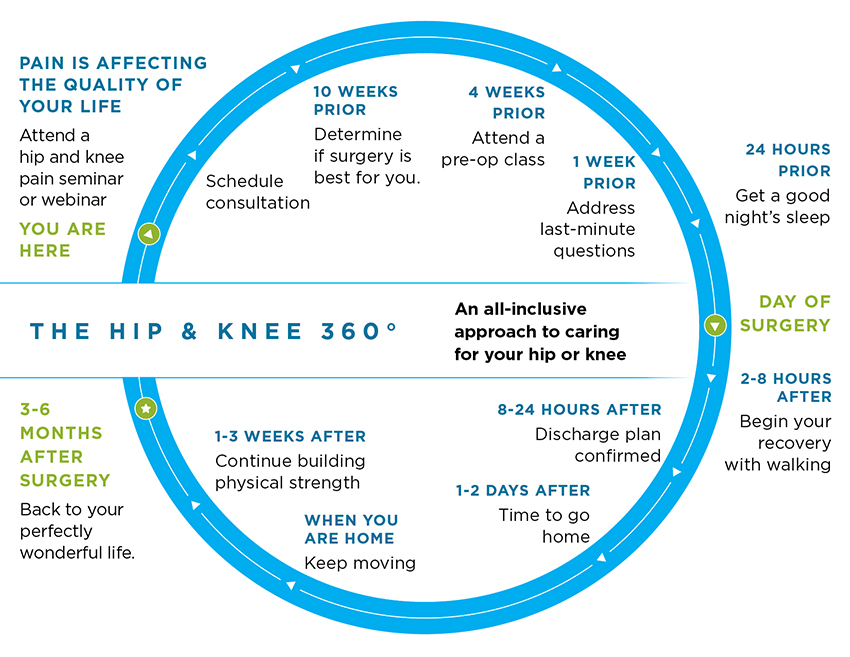 Options other than knee replacement or hip replacement surgery
It may be that surgery is not the right option for you, but you still need ways to manage your pain and increase flexibility and movement. We've got you covered 360° on that as well with a team of hip pain specialists and knee pain specialists who can design a pain management and rehabilitation program just for you.
Attend one of our hip and knee pain seminars to find out if it's time for you to have a hip or knee replacement.
Or call 1.866.CALL.MLH (225.5654) to learn more.