Pride Month is a celebration of freedom and an opportunity to express self-love. While Pride Month raises awareness for issues related to the LGTBQ+ community, it is also a chance to take pride in your health.
Due to discrimination and societal stigma, LGBTQ+ folks face a wide range of health disparities — or preventable differences in disease, injuries, violence, and overall health. As a result of avoiding healthcare providers and facilities due to expected and experienced discrimination, they are prevented access to care meant to keep them healthy.
More than half of people who identify as LGBTQ+ report experiencing discrimination in some part of their life — with as many as 18% saying they have avoided medical care due to a fear of discrimination.
According to Dane E. Menkin, CRNP, Director of LGBTQ+ Services at Main Line Health, this fear of discrimination can lead to an increased risk of hospitalization and other poor health outcomes, like suicide and depression. Disparities in the physical and mental health of LGBTQ+ people may also link individuals to higher rates of smoking, certain cancers, and physical violence.
"We see higher rates of suicide. We see higher rates of disease processes that could have been prevented because people just wouldn't go get screened," Menkin says. "We see more expensive healthcare because it sure is more expensive to take care of somebody in an acute psychiatric hospital than it is to get them a therapist."
At Main Line Health, we believe that creating a welcoming, inclusive, and affirming healthcare environment is critical for increasing access to care for LGBTQ+ communities. During Pride Month and year-round, we are committed to improving LGBTQ+ health outcomes by focusing on these 3 principles: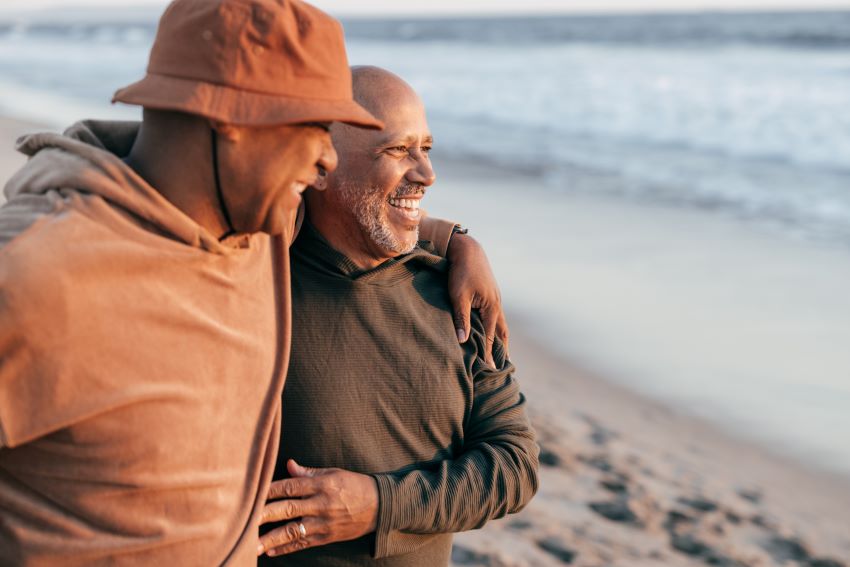 1. Understanding LGBTQ+ language
One of the most important parts of transforming healthcare is using inclusive language when interacting with patients and their families. Menkin, who has specialized in LGBTQ+ medicine for more than 13 years, says the key to improving relationships with people lies in how you speak to them.
"You have to find the answer to the question that you need using the right words. And it's not about fancy language, it isn't about learning these really complicated words and terminology," he explains. "It's about finding a way to ask the question in a non-gendered way, the sort of next step to that is learning the language of 2022. You know, it's very different from the language of 1980."
For years, Menkin has worked with healthcare professionals to shift the language they use. He says his work is challenging because "we have all been socialized" to be binary in the way we think. We tend to see things as black or white, male or female — when they can be much more complex.
A key component to effective inclusive language is being accurate about the way people identify themselves. Through learning from the LGBTQ+ community, healthcare providers can better understand how to address patients.
For instance, one of the most common myths associated with the LGBTQ+ community is that gender expression indicates a person's sexual orientation. However, this isn't the case. Gender identity is how a person sees themselves with regard to gender (male, female, transgender, non-binary). Sexual orientation is who a person loves or is attracted to (men, women, both, transgender people).
In his work with patients, Menkin says it's also important to apply the appropriate terms in discussing identity.
2. Changing culture and setting new policy
At Main Line Health, we've trained hundreds of physicians, clinicians, and advanced practice providers in inclusive care that focuses on getting the terminology right and addressing patients how they wish to be addressed.
"We've done a lot of work recently in getting a really hard look at policies and making sure that our policies — even though they're not patient-facing — that their language has been rewritten into much more inclusive language," Menkin says. "And just sort of ungendering a lot of the language that exists in policies."
Although Pride is a month-long observation, Main Line Health pledges to continue the work to honor LGBTQ+ communities throughout the year. We recently developed a LGBTQ and Allies Employee Resource Group to set priorities and a vision for engaging with these communities.
Menkin is also part of another committee named SOGI 2.0, which stands for sexual orientation and gender identity. It consists of people from various corners of the organization who report back on the pain points of patients. These issues may seem minor, but having your name used, even if it is different from your legal name, is a big deal — particularly to those who are transgender or non-binary.
"We meet every month, if not more," he says. "And we take these things on and find these little nooks and crannies of things that need to be fixed, things we might otherwise miss."
3. Nurturing strong relationships with LGTBQ+ patients
Another key element to fostering a healthcare environment that is inclusive and affirming is building trust with LGBTQ+ patients.
At Main Line Health, we are compassionate toward all people and advocate for their well-being and health. "We have support groups which cover a range of topics, such as:
Dual diagnosis and trauma, which help patients understand the effects of trauma and how to cope with complicated diagnoses
Coming out as LGBTQ, which help patients learn techniques for talking to peers and family members about who they are
Relapse prevention, which help patients identify warning triggers and use purposeful intervention plans
Relationships, which help patients learn how to grow and foster healthy relationships
Taking care of your health can be difficult to navigate, especially if you have reason to believe that your status as a person in the LGBTQ+ community might affect your care. At Main Line Health, we encourage you to seek the help you need to stay on top of your health. This Pride Month — and every month — we are committed to providing you with the best care and support possible.