If you are thinking about gender-affirming surgery, you may have a lot of questions. You may be wondering about what surgery might be best for you or what kind of support you'll need after. You may want to know what your options are at Main Line Health or whether you meet the eligibility requirements.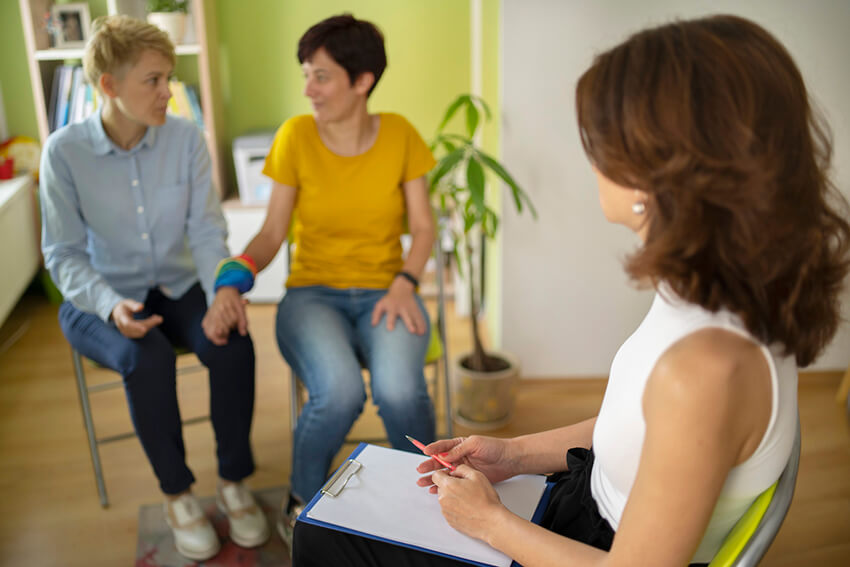 These are valid questions, and having the right answers can help you make informed decisions and be as prepared as possible.
Here are 10 questions about gender-affirming surgery—answered.
1. What is Main Line Health's Gender Care Program?
Everyone deserves care that honors and celebrates their whole identity. The Gender Care Program was launched in 2021 with the goals of ensuring that transgender and gender-expansive people have access to high-quality, evidence-based gender-affirming care — and to improve the overall quality of that care.
The Gender Care Program includes gender-affirming surgeries, as well as primary care, hormone therapy, behavioral health, and other supportive and medical services.
2. What is gender-affirming surgery?
Gender-affirming surgery refers to any surgical procedure that changes your body's function or anatomy to align with your gender identity.
You may be familiar with phrases like "top surgery" and "bottom surgery" — which refer to the surgical alteration of one's breasts or genitals — but gender-affirming surgery can include many other procedures as well.
3. What are my options for gender-affirming surgery at Main Line Health?
Main Line Health offers a wide range of gender-affirming surgeries to fit your needs and desires. Our gender care surgeons are experts with extensive training to care for your whole identity — including when surgery can help support those goals.
Our team can perform:
Chest reconstruction (top surgery), including:
Creation of a vagina (vaginoplasty)
Removal of the testicles (orchiectomy)
Tracheal shave (Adam's apple reduction)
Voice feminization surgery
4. How do I know which gender-affirming surgery is right for me?
No two people are alike, and different kinds of gender-affirming surgeries are good for different people. You may know exactly what you want or you may have just started learning about your options. No matter where in the process you are, the feelings and questions that come up are valid and worth exploring.
It can be beneficial to talk to supportive friends and family, or members of the trans community. Their insight can help you think through what your options are or give you a real-world perspective on gender-affirming surgeries.
To better understand your options at Main Line Health, you can talk to your primary care provider. You can also speak with a gender services nurse navigator who can answer any questions you might have and help you schedule a surgical consultation. Call 484.337.5329 to speak to a nurse navigator today.
5. How do I know if I'm eligible for gender-affirming surgery?
The eligibility requirement for certain gender-affirming surgeries are established by the World Professional Association for Transgender Health (WPATH) standards of care. Our surgical team follows these requirements, which apply to gender-affirming chest and genital surgery .
View the full list of eligibility requirements for chest and genital surgery.
6. Will insurance cover gender-affirming surgery?
At this time, transgender-related care — such as some gender-affirming surgeries — is recognized as medically-necessary care by most major insurance companies. This also includes criteria for when a specific plan will cover that surgery.
While this is a major move in a positive direction, it does not mean that every single insurance plan will cover every single type of gender-affirming surgery.
If you have questions about your insurance plan or other payment options, you can speak to a Main Line Health financial counselor about your situation or potential financial assistance programs you may qualify for.
7. Will I still be able to have kids after gender-affirming surgery?
Different types of gender-affirming surgery can have an impact on future fertility. The care provided by Main Line Health takes into account both your current and future goals. Fertility specialists can help you understand your options — like freezing your eggs or sperm — while providing info about family planning and gender-affirming surgery.
8. Do I need to stop taking hormones before my surgery?
The gender-affirming surgery you have scheduled may impact your current hormone usage. For any questions about your individual care plan or surgery preparation, speak with your gender care team member for guidance.
9. How should I prepare for my surgery?
Like any surgery, there are steps you need to take to prepare for gender-affirming surgery. Be sure to attend any consultations or appointments leading up to your surgery date.
Additionally, take some time to prepare mentally and emotionally. It can be incredibly helpful to talk through your thoughts and feelings with people in your support network, like friends, family, and other members of the LGBTQ+ community.
Main Line Health also has many non-surgical programs and support that you might find beneficial, like behavioral health care and counseling. Social support services are also available to help connect you with local resources that can help guide you through your gender-affirmation journey,
10. How long is the recovery process?
Different types of gender-affirming surgeries require different recovery periods. For example, recovery from a vaginoplasty (the creation of a vagina) may take 6 to 8 weeks.
It's important to ask your doctor how long your recovery period will last, what types of activities you can and can't do, and to be aware of any follow-up appointments. For example, if you undergo chest masculinization surgery — often referred to as "top surgery" — the recovery time will include weight-lifting restrictions.
While recovery time may differ from surgery to surgery, having someone you trust, like a friend, family member, or even home nurse, who can help you in the initial stage of your recovery is key.