This article originally appeared in Chester County Life Magazine.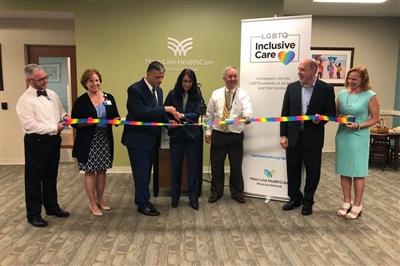 It was back in 1998 that Main Line Health's Joseph A. Greco, MD, and Joanne B. Glusman, MSW, LSW, published a journal article in Patient Care about homophobia and medicine. Since then, they have been leading the way in building the competency and understanding needed to warmly welcome patients who identify as lesbian, gay, bisexual, transgender, or questioning (LGBTQ) to Main Line Health. That initiative has become what is now known as LGBTQ Inclusive Care.
"Much of what we wrote about in 1998 is sadly, still relevant in many places today," says Dr. Greco, who serves as program director of the Bryn Mawr Hospital Family Residency Program. He leads a team of providers including faculty, residents, social workers, psychologists, and certified registered nurse practitioners (CRNPs), who work as a team to coordinate a patient's medical home. Dr. Greco's office, Bryn Mawr Family Practice, located on the campus of Bryn Mawr Hospital, is one of two major hubs at Main Line Health highly skilled in serving members of the LGBTQ community. The second major hub is Main Line HealthCare Family Medicine in Paoli, located on the campus of Paoli Hospital. The list of LGBTQ experts at Main Line Health continues to expand with training and guidance.
"Joanne and I both decided long ago that if we were going to work at a place, it should be leading in this regard," says Dr. Greco. "Systemwide, Main Line Health is committed to diversity, respect and inclusion. When we look at disparities in health care, the LGBTQ community is one that has faced the most significant amount of discrimination. At Main Line Health we're focused on hiring the right people, organizing a strong educational curriculum, and doing everything possible to provide a safe environment where LGBTQ patients, families, and visitors feel welcome."
Historically, many members of the LGBTQ community avoid seeking medical or mental health care due to negative or uncomfortable experiences in the past. Those who do seek care often have concerns about coming out to their provider for fear of being judged, or having to educate a medical professional about their sexual orientation or gender identity. In the face of discrimination, bullying, violence and homophobia, LGBTQ people are more likely to engage in high-risk behaviors such as drug or alcohol use, and experience a higher degree of mental health issues. There are few trusted sources for competent primary care and family medicine for this growing community.
"Main Line Health provides a safe, inclusive place to get care," says Glusman, who serves as a member of the Diversity, Respect and Inclusion (DR&I) Steering Committee at Main Line Health and co-chairs the DR&I Council at Bryn Mawr Hospital. She is also a member of the systemwide DR&I Education Initiative Faculty.
"Every specific patient population has its own relevant issues," says Glusman. "Providers need to know the appropriate screenings, labs, and tests for each. It's what you want to do with every patient — be able to ask the right questions so people are comfortable giving honest answers to help keep themselves the healthiest possible. We can't just assume things. If you don't understand a community, you can't ask the right questions, so you can't get the right answers, and you can't take care of them. This doesn't apply only to the LGBTQ community, but this segment of the population certainly faces more health care disparities than other segments."
Glusman says her parents taught their four children about the inequities in the world and the responsibility of all of us to participate in making the world a better place.
"Many transgender people are being turned away from health care providers," says Glusman. "And many need to educate their own providers. The patient should not have to educate the clinician."
At Main Line Health, every leader participates in an intensive two-day educational experience, and every one of the system's 11,000 employees attends a one-day experience. Each of the systems four acute care hospitals—Lankenau Medical Center, Bryn Mawr Hospital, Paoli Hospital and Riddle Hospital—has its own DR&I Counsel. Specially trained health care providers share a particular understanding of LGBTQ terminology and epidemiology, and awareness of the importance of privacy for all.
From expanding the choices on medical forms to include options beyond "male" and "female," to listing preferred pronouns on medical records, to calling patients by their preferred names, Main Line Health wants people who identify as LGBTQ to not only feel welcome, but expected. Across the system, visitors will find gender-neutral bathrooms, relevant reading material in waiting areas, and most importantly, the respect that everyone deserves.
The messages surrounding these efforts come from the top. Main Line Health President and CEO Jack Lynch is extraordinarily passionate about diversity, respect and inclusion, traveling the country to speak about this topic. Lynch has become known as a leader at the national level regarding the essential need for compassionate and competent care for the LGBTQ community.
No one knows about this commitment more than Reverend Liam Robins, a chaplain at Lankenau Medical Center and manager of clinical pastoral education at Main Line Health. Reverend Robins is also one of Dr. Greco's patients.
It was about four years ago that Robins began to recognize he was transgender, after his nine-year-old daughter asked about the meaning of the word. He chose to transition while remaining in his job at Main Line Health.
"Transitioning where I was working was a very affirming process," reflects Robins, who serves as a member of the DR&I Faculty at Main Line Health. "I'm so thankful for the incredible hospitality I've been shown, and the level of physical, emotional, and spiritual care I've received. It's so important that folks in my community have a safe place to go for medical care, a place that understands us, where health care providers aren't afraid to talk to us about our needs."
Dane Menkin, CRNP, joined Main Line Health earlier this year as divisional director of LGBTQ Services, charged with building competencies across the entire network, from physicians' offices to outpatient labs to the system's four acute care hospitals. Menkin brought with him a wealth of experience from more than a decade at a renowned health care center focused solely on the LGBTQ community. He presents around the country on such topics as family planning and reproductive health, and is currently working with a group of experts to develop nationwide clinical guidelines that best serve the specific needs of LGBTQ patients.
"Liam is the perfect example of someone who figured out their identity as an adult, and moved through his personal and professional life in a way that feels authentic to him," says Menkin, who also sees patients as a nurse practitioner at Bryn Mawr Family Practice. "But many people don't have the support Liam has. The medical community needs to unlearn some of what society has taught us, and relearn a more contemporary perspective of sexual orientation and gender. I want people to know that Main Line Health is dedicated to diversity, respect and inclusion, and we are institutionally building this into our fabric."
Menkin works collaboratively with multiple disciplines across Main Line Health, such as marketing, education and human resources, to provide the tools and information every employee needs to provide inclusive care. Says Menkin, "Whether you're a gay man taking PrEP (pre-exposure prophylaxis), or you have a sore throat, we want to serve as home base for the LGBTQ community."
Becky A. Souder, DO, leads the second hub for LGBTQ Inclusive Care at Main Line Health, and has also assumed a leadership role in the systemwide initiative. Her practice, Main Line HealthCare Family Medicine at Paoli, is on the campus of Paoli Hospital. Dr. Souder says it was her gay uncle who encouraged her to learn more about meeting the needs of the LGBTQ community, telling her, "You have a special interest, and we need a safe place to go."
"As doctors, we went to school to learn how to take care of people," says Dr. Souder. "How is it possible that not every health care provider is comfortable taking care of every patient who sits in front of them? My practice is a place where members of the LGBTQ community are not only welcomed, but they are cared for and loved."
"When our LGBTQ patients share with us their previous health care experiences, we're even more motivated to deliver the right care," adds Dr. Greco. "You don't want that to ever happen to them again, or to anyone else. We want every member of the LGBTQ community to know that you are welcome here, and our team is able to provide you with the care you need and the respect you deserve. We want you to know that you are worthy. Period."
To schedule an appointment with a Main Line Health LGBTQ Inclusive Care specialist, please call the confidential telephone line at 484.337.LGBT (5428) or visit our website to learn more.
Main Line Health serves patients at hospitals and health centers throughout the western suburbs of Philadelphia. To schedule an appointment with a specialist at Main Line Health, call 1.866.CALL.MLH (225.5654) or use our secure online appointment request form.