Support and solutions to help seniors find the care they need
As we get older we all desire to live as healthy and as independently as possible, and yet, adjusting to a new phase of life often requires support and guidance. Main Line Health is here to serve as your dedicated partner, offering access to an array of health care services and community-based resources. We are committed to serving seniors, their families and caregivers by providing free information and friendly assistance that meets your specific needs or preferences.
A great place to start is with our Art of Aging series with 6abc featuring health topics for seniors.
So when a health care question or need arises call our Senior Care Line.
Senior Care Line
484.580.1234
mlhseniors@mlhs.org
Our licensed social workers can answer questions and connect callers with health care services and community organizations, including:
Physician referrals and appointments
Social and psychosocial support
In-home care
Senior day programs
Educational and screening programs
Call 484.580.1234 today and find out why Main Line Health remains the gold standard in silver care. Our senior care representative can also provide information and help with access to primary care, inpatient, and post-acute care available at Main Line Health or in the community.
Inpatient Care – NICHE-designated hospitals for quality of elder care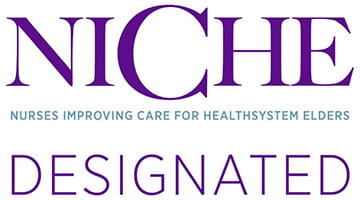 As part of our commitment to a superior care experience for seniors, their families and caregivers, five of our facilities—Lankenau Medical Center, Bryn Mawr, Paoli, Riddle and Bryn Mawr Rehab hospitals—have received Nurses Improving Care for Healthsystem Elders (NICHE) designation. This nurse-led model, with a focus on patient- and family-centered care, addresses issues unique to older people with a commitment to improving care outcomes. Our care team, including nurses certified in gerontology, has special skills, training and sensitivity when it comes to elder care.
Main Line Health—simply superior care for seniors.