More than a drug and alcohol treatment center
At Mirmont Treatment Center just outside of Philadelphia, we recognize the importance of drug and alcohol treatment that treats the individual, not just the symptoms of addiction. Our highly skilled team of physicians, registered nurses, psychiatrists, nurse practitioners, master's-level therapists, certified addiction counselors, and pain management practitioners, work together to develop and implement effective, individualized treatment plans for each patient.
Talk to us - click to call 1.888.CARE.898 (227.3898)
Not ready to make the call? Contact us online.
"The staff at Mirmont helped me see that as long as you're ready to change, it is possible. I would recommend this program to anyone." – Patient in partial hospitalization program
Drug and alcohol treatment with holistic therapy integration
Traditional and integrative therapies are key components of our treatment method yet it is our mind-body approach to drug and alcohol treatment and recovery that makes Mirmont particularly unique. Using evidence-based practices, we integrate mindfulness and body-centered therapies into our inpatient drug and alcohol treatment program as well as our drug and alcohol outpatient services. With this holistic approach to addiction, we've helped thousands of people on the journey to recovery from alcohol and drug dependency over the last 30 years.
Drug and alcohol treatment services at Mirmont
When you come to Mirmont for drug and alcohol treatment, you'll benefit from individual therapy as well as men and women's group therapy. Depending on your specific needs, we also provide:
Trauma treatment, including eye-movement desensitization and reprocessing (EMDR)
Medication-assisted treatment (MAT) for opioid addiction and heroin addiction
At Mirmont you'll also enjoy:
Qi gong, reiki, and therapeutic touch
Acupuncture
Exercise programs and daily yoga practice
Nutrition counseling
Smoking cessation program
Patients and families benefit from additional services such as family counseling, our Valor with Integrity Program for Emergency Responders (VIPER), AA and NA meetings, Refuge Recovery meetings, educational sessions, and alumni and family support.
Mirmont Treatment Center Guidebook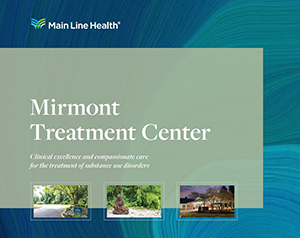 At Mirmont, our focus is on treating the entire person, not just the symptoms of their addiction. Our experts create an individualized plan for each patient, blending evidence-based approaches with holistic therapies, and clinical excellence with compassionate care. We are dedicated to empowering patients to achieve lifelong recovery, and to restoring a profound sense of self-worth and purpose. Learn more about what Mirmont has to offer.