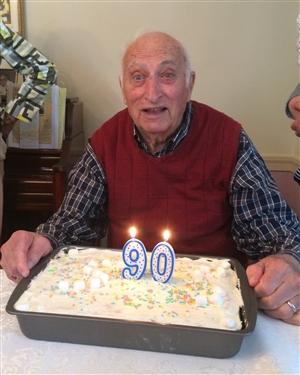 When it comes to matters of the heart, Main Line Health's Lankenau Heart Institute is one of the top-performing cardiovascular medicine and surgery programs in the country. And, it is among the first in the region to offer the Micra® Transcatheter Pacing System—a major breakthrough in technology for patients who are not candidates for traditional pacemakers.
"Pacemaker technology hasn't changed this much in almost 50 years," says Matthew Hillis, MD, who implanted the first Micra at Bryn Mawr Hospital in July of this year. Dr. Hillis trained under Lankenau Medical Center's Douglas Esberg, MD, who participated in the Micra clinical trial and implanted the first commercially approved Micra at Lankenau Medical Center in September 2016.
"A traditional pacemaker is implanted under the skin just below the collarbone," Dr. Hillis explains. "We then go through a vein in the arm to thread one or more wires from the pacemaker into the heart. With the Micra pacemaker, sophisticated pacemaker circuitry is all contained within one device that is placed directly inside the right ventricle of the heart. There are no wires—or what we call leads. This provides a multitude of advantages."
The Micra is the first and only leadless pacemaker to receive FDA approval. It is the world's tiniest pacemaker—about the size of a small vitamin and 93 percent smaller than conventional pacemakers—and was named at the top of U.S. News & World Report's list of the "Biggest Achievements in Medicine" in 2016.
Because it's so small, the device can be implanted using a minimally invasive approach. There is no need for a surgical incision or pocket in the chest, because the Micra is inserted via catheter through a vein in the groin that travels to the heart. This is especially advantageous when a patient has blocked veins in the upper extremities, making it impossible to thread the wires required with a traditional pacemaker.
"In addition," says Dr. Hillis, "the Micra avoids the possibility of infection in the chest pocket where a traditional pacemaker would be implanted; it avoids the possibility of lung puncture; and it avoids the possibility of breaks in the wire that can happen after some years."
The Micra is used specifically for patients who need a single-chamber pacemaker, not for those who require a dual chamber pacemaker or more. It is not prescribed for patients with heart failure, nor does it replace a defibrillator. But Dr. Hillis sees this evolving.
"Leadless pacemaker technology is revolutionary," he says. "In the future, it's likely we'll have leadless pacemakers we can implant in multiple chambers of the heart."
Micra is also not an ideal option for younger patients, as all pacemakers have a limited lifespan, and the Micra is not typically removable. The good news is that most patients who need single-chamber pacemakers are over age 70, and will only need one or two pacemakers in their lifetime.
At age 90, Sal DiTrolio was an ideal candidate, and became the first patient to receive a Micra pacemaker implanted by Dr. Hillis at Bryn Mawr Hospital. Sal had been hospitalized for pneumonia when nurses noticed an irregular heartbeat and called in Dr. Hillis, who discovered that Sal had symptomatic bradycardia—a slower than normal heart rate, and atrial fibrillation—an irregular heartbeat known as an arrhythmia. On the third day of Sal's hospital stay, Dr. Hillis inserted the Micra pacemaker.
Sal's daughter, Theresa DiTrolio, is an x-ray technician who was originally trained at Lankenau Medical Center. She could not believe her eyes.
"I've been present in the operating room countless times in my career when large pacemakers were placed into the chest," says Theresa. "The Micra is so small. And it goes right through the femoral vein in the leg into the heart. It's really amazing."
Says Sal, "The pacemaker came through for me and I give it high marks. Everything is fine, and I feel good."
Monsignor Bernard Trinity, also age 90, was the second patient to receive the Micra. Like Sal, Monsignor Trinity had symptomatic bradycardia and atrial fibrillation. He had known for some time that he would likely need a pacemaker, but he had been putting off the procedure. He thought he was "too old." Now that he has the Micra, he tells everyone there is no reason to wait.
"I'm feeling great," says Monsignor Trinity. "It's one of the better things I've ever done. Before, I was dragging around. The pacemaker has given me more energy. Dr. Hillis is great. He's very professional and he did an excellent job. I didn't feel anything. I'm very happy with the whole thing."
In March 2017, the U.S. Centers for Medicare & Medicaid Services approved reimbursement coverage for the Micra Transcatheter Pacing System, which should drive its adoption significantly in the U.S.
"What I find most amazing is that despite the Micra's small size, there is no sacrifice in battery life compared to a traditional pacemaker, which is about ten years," says Dr. Hillis. "The Micra also has rate responsive pacing like a traditional pacemaker, meaning it can sense a person's activity level and increase the heart rate accordingly. This is the first time we've been able to deliver a sophisticated pacemaker with no leads. I anticipate it will become commonplace very quickly. We're proud to be offering it to patients now."
About Lankenau Heart Institute
The Lankenau Heart Institute has one of the most experienced heart rhythm management teams in the region. To schedule an appointment with a Lankenau Heart Institute specialist at Lankenau Medical Center, Bryn Mawr Hospital, Paoli Hospital, Riddle Hospital or at one of our many community cardiology practices near you, call 1.866.CALL.MLH (1.866.225.5654) or use our secure online appointment request form.