Caring for the whole person
When you or a loved one is in the hospital, it can create a lot of different thoughts, feelings, concerns and questions. Sometimes it helps to connect with someone who can provide religious, spiritual or emotional support during this stressful and trying time. You don't have to navigate this journey alone. Our spiritual care professionals are trained to provide spiritual and emotional support by offering an empathetic listening ear and ways to find mindfulness.
A broad definition of spiritual care
Our chaplains serve all patients and visitors — regardless of religion, faith and beliefs — with respect, empathy and dignity. You can turn to our chaplains for thoughtful guidance, comfort and support when you or a loved one are faced with:
A new or difficult prognosis
Feelings of depression, guilt, anxiety, apprehension and fear
Emotional trauma
Family and relationship issues
Life situations that contribute to an illness or complicate recovery
Making ethical decisions about treatment
Some of the ways our spiritual care professionals provide compassionate support and guidance include:
Empathetic listening
Pastoral counseling
Guided meditation and other alternative therapies
Support when making difficult decisions
Prayer and sacramental support
Providing spiritual, religious and meditative services
Providing spiritual resources, such as religious texts
Honoring specific rites and rituals while you or your loved one is in the hospital
Our spiritual care professionals can assist with special dietary needs related to faith, culture or tradition. We can also assist with connecting you with community faith representatives.
If you need help coping with the death of a loved one, we offer free bereavement and grief support groups .
Spiritual care information and support
For your convenience and comfort, an interfaith prayer and meditation room is located on the first floor of every hospital and is available 24 hours a day.
If you need to talk with a spiritual care professional or would like to learn more about the pastoral services available throughout Main Line Health, please call Monday through Friday from 9 a.m. to 5 p.m.:
For nights, weekends and emergencies, please ask the hospital staff to page the chaplain on-call.
Our spiritual care team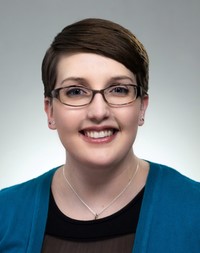 Rev. Casey Bien-Aime, Chair of Pastoral Care
The Rev. Casey Bien-Aime is the Spiritual Care Coordinator at Lankenau Medical Center. She attended Drew University for her undergraduate degree, and earned her master of divinity degree at Palmer Theological Seminary. Rev. Bien-Aime's Clinical Pastoral Education training was completed at Thomas Jefferson University Hospital. While at Jefferson, Rev. Bien-Aime's focus was in high-risk maternity, rehabilitation and neurological trauma. In her final year, she pursued a fellowship working on a grant from the George Washington Institute for Spirituality and Health.
Rev. Bien-Aime currently serves in many capacities in Main Line Health, including but not limited to: Ethics, Diversity, Diversity Respect and Inclusion Faculty, Palliative Care, Perinatal Bereavement, Trauma, Schwartz Rounds Committee, Grandin Symposium Committee, and the local Interfaith Ministerium.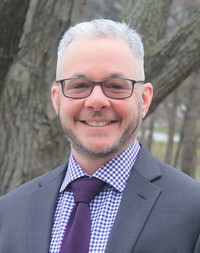 Rev. Dr. Liam Muggleton Robins, ACPE Certified Educator
The Rev. Dr. Liam Muggleton Robins started working as an ACPE-Certified Educator and Chaplain at Main Line Health/Lankenau Medical Center in October 2015. Liam graduated with a master's in professional counseling in 1997 from Geneva College and a master of divinity degree from Yale Divinity School in 2002. He was ordained in the United Church of Christ and endorsed for chaplaincy and educational ministry in 2004. In 2018, Liam was ordained as an interfaith minister through The New Seminary.
Clinical Pastoral Education (CPE) is an opportunity for ministers to learn who they are in professional relationships and what motivates them personally in serving the spirit being of their understanding. In working with students, Rev. Robin's goal is to empower them to create a healthy community with their peers, parishes and families that are life-affirming for all.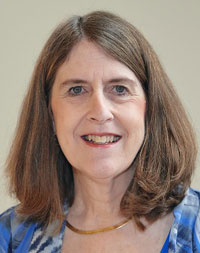 Rev. Barbara Emery, BCC, ACPE Certified Educator
Barbara has lived in Philadelphia suburbs since 1989. She has deeps roots in Northern New Mexico where she was born and raised. During a year of volunteer service in Portland, Oregon she met her future husband Keith Emery. They married in New Mexico and made their first home in Princeton, New Jersey. They have lived in New Jersey, Oregon and Pennsylvania. Together they have three grown children, a grandson, and one neurotic pup.
Barbara has an M.A. in Religious Education from Princeton Theological Seminary, an M.Div. from San Francisco Theological Seminary, and is Board Certified with the Association of Professional Chaplains. Ordained in the United Methodist Church, Barbara served in pastoral capacities within the denomination from 1987 until 2005. After completing a Chaplain residency at the Hospital of the University of Pennsylvania in 2006, Barbara joined the chaplain staff at the Hospital of the University of Pennsylvania and worked there until 2011. In 2010 when Paoli hospital became a trauma center, she joined the staff part-time at Paoli hospital as their first chaplain in many years. In just over a year her part-time position was made full-time. While at Paoli she developed a comprehensive Spiritual Care program which she currently manages. Barbara is a Candidate Educator with the ACPE and is working on completing Certification as an Educator.
In addition to the fulfilling work at Paoli Hospital Barbara finds joy in music. She and Keith attend the Philadelphia Symphony for regular "date nights" and she has been part of the Chester County Concert Band for the last 20 years.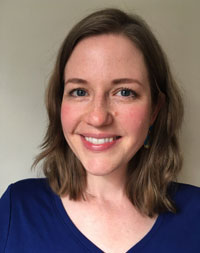 Rev. Marcie Brozyna, MDiv BCC, Riddle Spiritual Care Coordinator
Reverend Marcie Brozyna began her tenure at Riddle in 2015 when she was brought on to create and oversee the Spiritual Care department. In addition to her primary role providing emotional and spiritual support to patients, families, and staff, she created and manages the Riddle Bereavement Group, facilitates visits from local "partners in ministry," and represents Riddle on the Interfaith Counsel of Southern Delaware County. She serves as adjunct faculty at Rosemont College and is a field education supervisor for masters counseling students interning with Riddle Spiritual Care. Reverend Marcie is the Facilitator and co-chair of the Riddle Schwartz Committee. She passionately believes in the importance of integrating emotional and spiritual care as key elements of the holistic health Riddle strives to provide.
Main Line Health serves patients at hospitals and health centers throughout the western suburbs of Philadelphia. To schedule an appointment with a specialist at Main Line Health, call 1.866.CALL.MLH (225.5654) or use our secure online appointment request form .