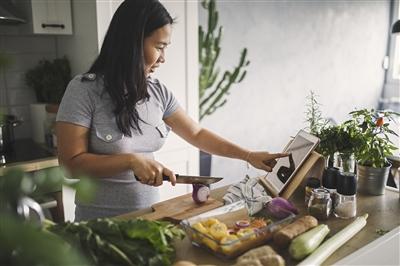 You might have heard about the dreaded "middle-age spread." In fact, your body does change in some unwelcome ways as you get older.
"Muscle mass decreases, which can slow the rate at which your body burns calories. You don't need quite as many calories as you did earlier in life," explains Lauren Baker, DO, a family medicine provider at Main Line Health King of Prussia. "While this happens to men and women, ladies have the added difficulty of menopause, which often causes fat to be distributed around the stomach."
Your metabolism may begin slowing as early as your 20s, but most women notice a change as they approach 40. "It's not uncommon to start putting on about a pound a year," says Dr. Baker. That may not seem like much, but it adds up over time. Fortunately, you can take action to keep the pounds away:
Get your "om" on:  A study from the Fred Hutchinson Cancer Research Center found that 45-year-olds who regularly practiced yoga gained three fewer pounds by age 55 than those who didn't spend time doing sun salutations. The results were even better for those who were overweight when the study began.
Record your food intake: Although it can be tedious, it's also incredibly helpful in seeing what you're actually consuming. "Try it for a week and look for where you might be able to cut back or make healthy swaps," suggests Dr. Baker. 
Load up on nutrients: Besides promoting weight loss, increasing your fruit, vegetable and fiber intake can reduce menopause symptoms such as hot flashes and night sweats.
Cook at home: "It's easier to plan a balanced meal when you're making it yourself," says Dr. Baker. "At a restaurant, there may be hidden sugars in something seemingly healthy, like minestrone soup. In your own kitchen, you can control what is added." Bonus: walking around a farmers market or grocery store to buy ingredients is a little extra exercise!
Main Line Health serves patients at hospitals and health centers throughout the western suburbs of Philadelphia. To schedule an appointment with a specialist at Main Line Health, call 1.866.CALL.MLH (225.5654) or use our secure online appointment request form.