"When a patient comes into Bryn Mawr Rehab Hospital, we recognize their disability but we don't focus on it," says Clare Small-McEvoy, PT, DPT, director of therapy services. "We focus on their abilities, what they can do."
Six patients share inspiring stories of recovery
Every year, Bryn Mawr Rehab has nearly 2,000 inpatient visits and sees nearly 111,000 patients on an outpatient basis. Here are stories of recovery from patients whose lives would have been permanently altered without the care they received at Bryn Mawr Rehab:
Watch stories of recovery and how the Bryn Mawr Rehab "family" pulls together for every patient
A team of skilled therapists and clinicians helps put patients back in the game of life, whether it's practicing on the golf-putting range or kayaking in the swimming pool or cultivating individual hobbies and passions.
Bryn Mawr Rehab offers a rich variety of therapies and techniques through specialty inpatient and outpatient programs, including:
Therapists work closely with patients and family, taking a deeply personal interest in every patient's recovery.
"We become part of your family, and we need to become part of your family because that's what helps with healing our patients," adds Bryn Mawr Rehab president, Donna Phillips.
"In the wake of the pandemic," she continues, "we have expanded access to virtual therapy, adapting speech therapy methods for patients in isolation, exploring ways to keep patients and loved ones connected to aid in their recovery journey and much more. Our expert team rose to these new challenges by developing innovative approaches to care."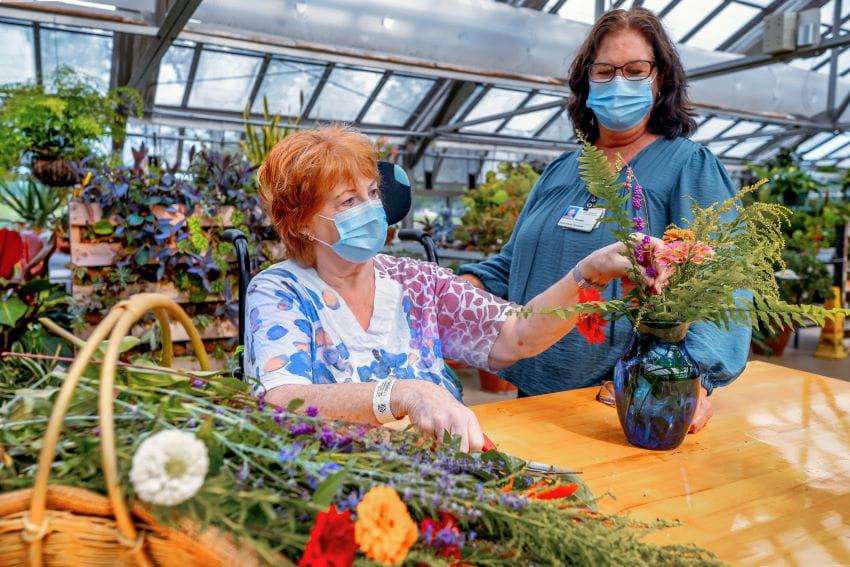 Patients recovering from traumatic injury or illness want the best care available in close, capable hands. They expect excellence in all aspects of rehabilitative care—skill, experience, expert decision-making, determination, ingenuity, compassion, comfort and the utmost in teamwork. This is what we aspire to achieve."
– Donna Phillips, President, Bryn Mawr Rehab Hospital
Post-COVID Recovery Program and innovation during pandemic
The effects of COVID-19 can last for weeks or months, and some patients may even experience lifelong health issues due to "long-hauler" syndrome. Post-COVID-19 physical complications may include:
Impairments in muscle strength
Memory difficulties or brain fog
Heart and lung capacity
Pain
Problems with balance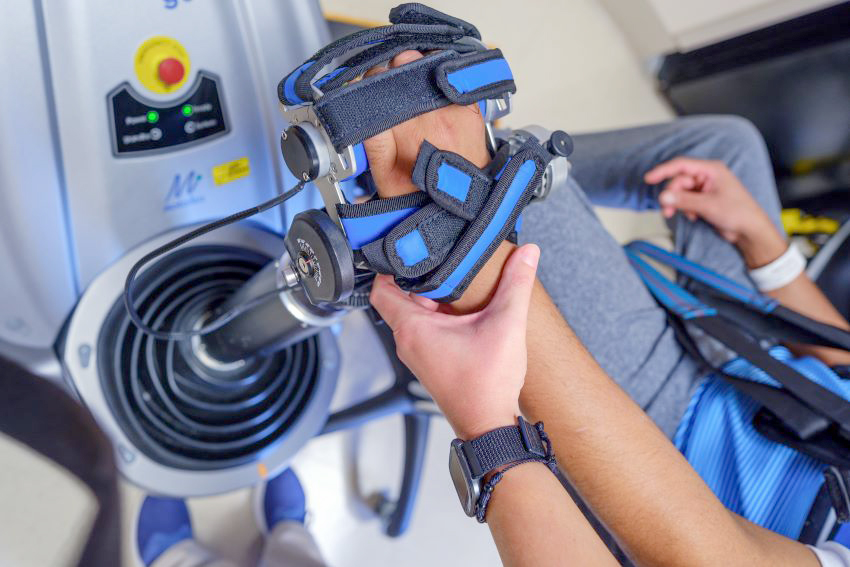 Patients often experience challenges with endurance and ability to walk, which leads to a loss of function and independence.
The Post-COVID Recovery Program offers a multidisciplinary, outpatient therapeutic approach, providing patients with access to specialty physicians, psychologists, case management, nutritionists and dietitians as well as occupational, physical and speech therapists, and treatment plans customized to individual patient needs.
Speech therapy during COVID
During the COVID-19 pandemic, Bryn Mawr Rehab's talented team developed innovative speech therapy solutions to ensure staff and patient safety while effectively addressing patient needs.
"Patients in our speech therapy programs often rely on visual cues centered around mouth and throat movements," explains Julie Klappert, speech pathologist at Bryn Mawr Rehab. "While extremely important to slow the spread of COVID-19, PPE and face masks present unique challenges for speech therapy."
Therapists at Bryn Mawr Rehab implement telehealth whenever possible and use plexiglass, face shields and transparent masks during in-person patient sessions. Find out more about speech therapy innovation and treatment at Bryn Maw Rehab.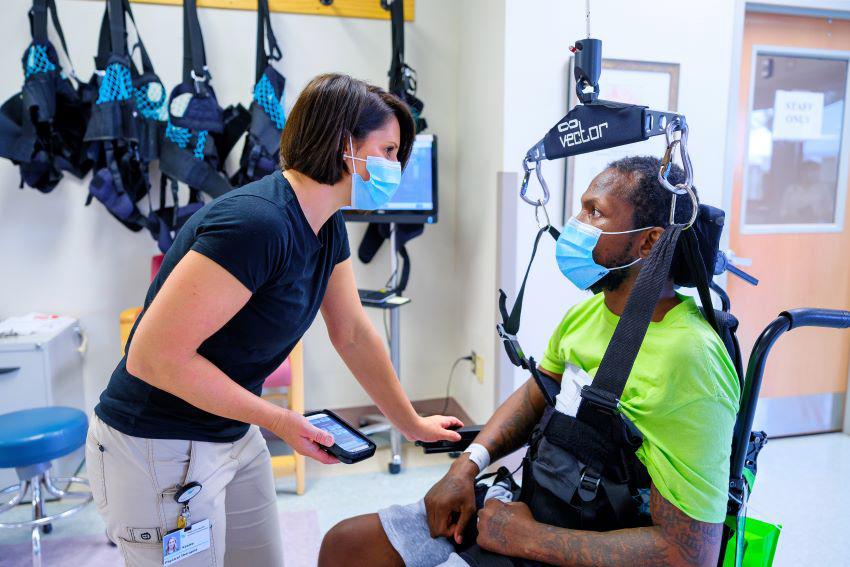 Stroke Recovery at Bryn Mawr Rehab
At Bryn Mawr Rehab, acute inpatient rehab begins as quickly as possible after a stroke. Patients receive a minimum of three hours of therapy a day, five days a week. Stroke patients have access to cutting-edge technology, including robotic exoskeletons, body weight-supported walking devices and upper extremity robotic devices, which help the patient rebuild the strength and coordination of movement and improve overall function.
Technology, coupled with the skilled hands of our expert stroke recovery therapists, provides our patients with the best opportunity for success.
Exoskeleton robotic device accelerates patients' ability to walk and stand
A wearable, battery-operated bionic exoskeleton, the EksoNR is designed to help patients learn to stand and walk during rehabilitation. The EksoNR is the first and only exoskeleton device to receive FDA approval for the rehabilitation of patients with acquired brain injury.
Bryn Mawr Rehab therapists use this device to help promote correct movement patterns in all recovery phases for patients who have experienced a brain injury, stroke or an incomplete spinal cord injury. Our therapists individually assess each patient to ensure that the exoskeleton robotic device is the proper treatment based on their injuries and goals. Each session is focused on specific gait training goals the patient and therapist established together. Feedback from the device is also used to help achieve these goals.

Get to know Bryn Mawr Rehab Hospital
Deciding where to go for rehabilitation is a critical step in your recovery. At Bryn Mawr Rehab, we offer private tours of our facility and clinical liaisons who provide one-on-one consultations with patients and caregivers.
Bryn Mawr Rehab Hospital has been a part of the Greater Philadelphia region for more than 50 years. Situated on 40 acres of land, our 270-000-square-foot rehab center is one of the largest inpatient rehabilitation hospitals in southeastern Pennsylvania with more than 148 beds.
Our patients receive the highest quality therapy, nursing and physician care with experts to guide them on their recovery journey. As one of the most comprehensive rehabilitation hospitals in Pennsylvania, we take a creative approach to a wide range of rehabilitation services to help patients re-establish their lives.
Find out more about inpatient and outpatient rehabilitative therapy.
Bryn Mawr Rehab serves patients throughout the Philadelphia region and beyond. For acute inpatient rehabilitation, call 484.596.6000.
For outpatient rehabilitation therapy, call 484.596.5000.