Lung cancer is responsible for the highest number of cancer deaths for all genders, and many people aren't diagnosed until the disease has reached its later stages.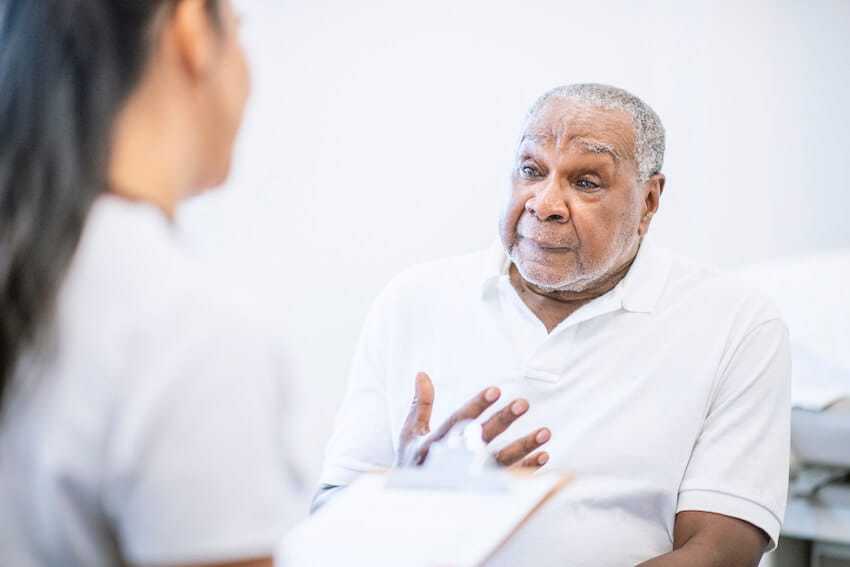 "Thanks to improved detection and earlier diagnosis through low-dose CT scans, and greater awareness about the long-term health risks of tobacco use, many people have been able to catch the disease early—or avoid it altogether," says Kareem Ibrahim, MD, a thoracic surgeon at Main Line Health's Lankenau Medical Center.
The low-dose CT scan takes 20 seconds and has reduced lung cancer deaths by 20%.
These advancements are important to save lives, but the physicians and researchers at Main Line Health are also looking to the future of lung cancer treatment.
Cutting-edge, diagnostic and minimally invasive treatments for lung cancer
The expert physicians and surgeons in Main Line Health's Cancer Care Program utilize the latest advances in surgical technology and innovative medicine to optimize a patient's lung cancer care, from diagnosis to recovery. Our skilled, multidisciplinary team of thoracic surgeons, pulmonologists and specialists have access to state-of-the-art diagnostic imagery capabilities.
"For many years, lung cancer surgery was invasive and required a large incision in the chest to access the lungs. Thanks to new minimally invasive techniques, that is changing," says Dr. Ibrahim.
Minimally invasive treatment options offer smaller incisions, less post-operative pain and a quick recovery for the patient. Not only does a minimally invasive approach prioritize patients' comfort and safety, but it can also take some of the fear out of diagnosis and treatment.
While minimally invasive surgery may not be right for everyone, we use this approach whenever it's the most appropriate and safest option for our patients.
Our thoracic surgeons at Main Line Health also use their expertise in minimally invasive diagnostic techniques like bronchoscopy and robotic-assisted surgery to minimize unnecessary side effects while maximizing the effectiveness of these interventions.
Lung cancer clinical trials
Clinical trials are critical to the advancement of cancer treatments. When there are already-approved treatments for a person's cancer, a clinical trial will provide the opportunity for patients to get a treatment that we hope may be better than the available standard, often by comparing a new approach to that standard.
"At the Lankenau Institute for Medical Research, we're at the forefront of new discoveries in lung cancer prevention and treatment. Our multidisciplinary teams are championing further progress through the implementation of expert-informed clinical trials designed to supplement treatments for patients at every stage of lung cancer," says Dr. Ibrahim.
All patients treated on clinical trials are followed very carefully by our clinical trials staff, in addition to the patient's oncology care team, so trial participants have an extra layer of care provided to them and the satisfaction of knowing they're helping us learn how best to treat future patients—in addition to potentially improving their own outcomes.
Next steps:
Make an appointment with Kareem Ibrahim, MD
Learn more about lung cancer care at Main Line Health
Advanced technology for lung cancer diagnosis and treatment