During the pandemic, with many breast cancer patients experiencing changes in treatment and increased anxiety, caregivers needed to find ways to continue to serve their patients. Main Line Health researchers wanted to take a closer look at the possible effects these changes had on patients so caregivers could respond appropriately.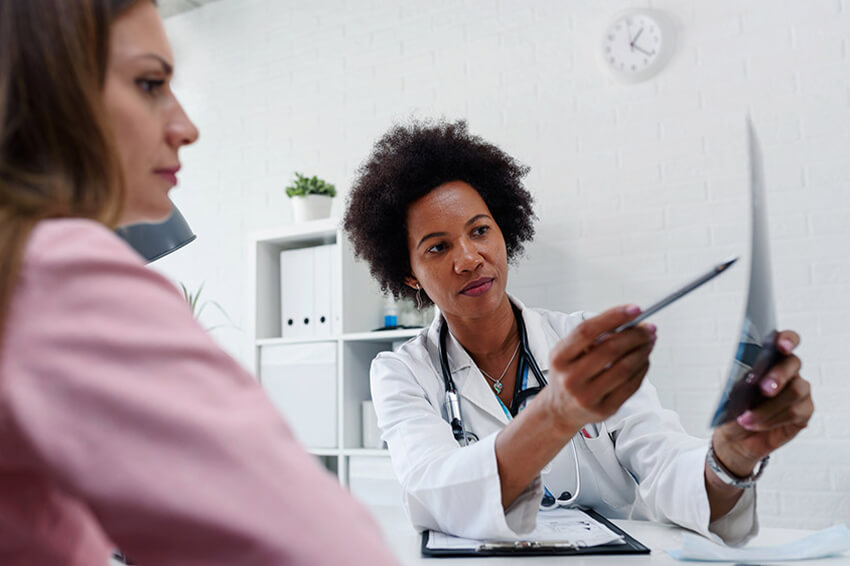 In a study led by the Center for Population Health Research at the Lankenau Institute for Medical Research (LIMR), almost half of patients saw changes to their breast cancer treatment plan due to the pandemic. These changes included delays in treatment and use of hormonal therapy when surgery was delayed. More than half of the patients who saw changes in their care said they believed COVID-19 affected their treatment outlook. Regardless of whether their plan was altered, nearly a third experienced higher levels of anxiety and depression.
"This data is relevant to cancer care across the U.S. especially as we are now seeing an increase in COVID cases," says lead author Kaitlyn Kennard, a postdoctoral fellow for LIMR and Lankenau Medical Center surgical resident. "More than 75% of surgical care for breast cancer nationally is delivered in community hospitals. That means Main Line Health's experience with the impact of COVID-19 reflects the majority of breast cancer care."
The study involved patients who needed medical evaluation or had a scheduled surgery date at Lankenau Medical Center or Bryn Mawr Hospital. Data was collected during the initial COVID-19 surge from March to June 2020. Surgery at the time was limited to essential cases. Established patients were seen via telemedicine.
"This study reinforces that we should have plans in place to meet the needs of patients with all types of cancer in the case of an emergent situation," says Sharon Larson, executive director of the Center for Population Health Research and a study coauthor.
Main Line Health has worked diligently to address the pandemic's impact on its cancer patients since the initial COVID-19 surge, says Michael Walker, MD, medical director, Main Line Health Cancer Care.
"We have developed programs and services to help our patients through this challenging time," Walker says, citing the creation of online support groups and webinars, ensuring easy access to telemedicine, and providing early access to vaccines as examples of how the health system strives to serve patients and ease their anxiety.
"Main Line Health breast cancer nurse navigators have always been by a patient's side throughout testing, diagnosis and treatment, and they came up with innovative ways to continue this support, which was needed more than ever," Walker adds.
The study, "COVID-19 Pandemic: Changes in Care for a Community Academic Breast Center and Patient Perception of Those Changes," is in the September issue of Annals of Surgical Oncology.
To learn more about cancer research at Main Line Health, visit the Lankenau Institute for Medical Research Center for Clinical Cancer Research.
Main Line Health Cancer Care provides compassionate care through all stages of cancer treatment, from diagnosis through survivorship, for patients throughout the Philadelphia region and beyond. To schedule an appointment with a cancer specialist at Main Line Health, 1.866.CALL.MLH (225.5654) or request an appointment online.