If you or a loved one has been diagnosed with cancer, you know how it can adversely affect energy levels. Cancer-related fatigue is a common and debilitating symptom experienced by cancer survivors during and after treatment. It is characterized by an overwhelming, total-body exhaustion that interferes with daily life and can't be treated with rest alone. This level of chronic fatigue can last months after cancer treatment is complete and can have a negative impact on your social, occupational and general functioning, which may lead to a considerably reduced quality of life.
"Cancer-related fatigue is not just a side effect of chemotherapy or radiation," explains Julie Caldwell, PT, a Main Line Health physical therapist and certified lymphedema therapist who works with cancer patients. "It stems from a combination of factors, including emotional distress, financial or family strain and even secondary complications such as thyroid problems, anemia, pain or hormonal imbalance."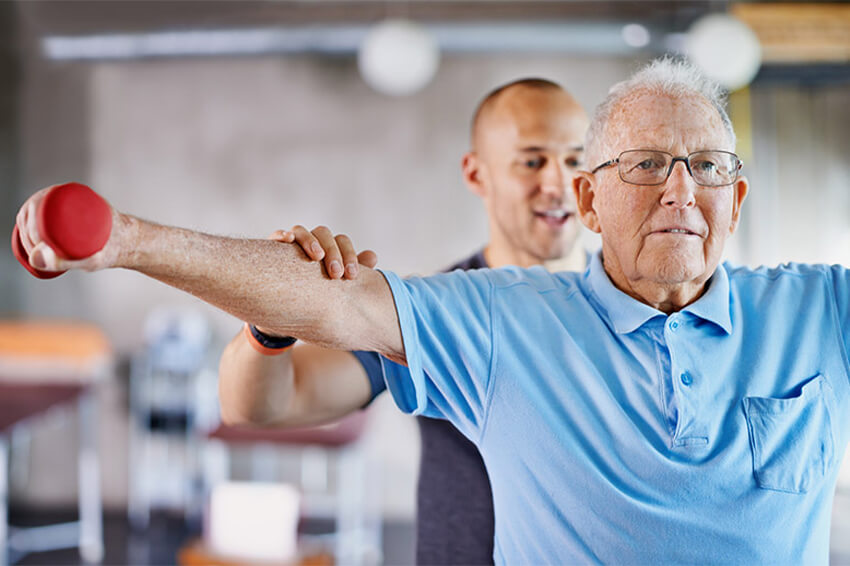 Understanding cancer-related fatigue and treatment
Caldwell sees patients at Bryn Mawr Rehab, part of Main Line Health, where therapists work closely with other providers (including referring physicians) to develop an individualized treatment plan, which also includes a customized plan for exercise — all designed to help patients with cancer-related fatigue achieve the highest level of independence possible.
When you're treated for cancer-related fatigue at Bryn Mawr Rehab, your team of providers may include:
Physical therapists
Dietitians
Social workers
Oncology nurse navigators
Radiation and/or chemotherapy oncology nurses
For treatment of a variety of cancer-related fatigue conditions, including:
Decreased endurance
Reduced energy
Whole-body tiredness
Shortness of breath after light activity
Pain
Decreased concentration
Fatigue after prolonged bed rest
Cancer-related fatigue treatments and therapies
Therapy for cancer-related fatigue is designed for your unique needs and goals, which may include boosting physical strength and endurance, learning strategies to decrease energy expenditure and fueling up with adequate nutrition.
Therefore, a treatment plan may include components such as:
Supervised exercise with vital signs monitored during and after therapy session
Education on energy conservation techniques
Physical modalities such as heat/cold, soft tissue mobilization and joint mobilization
Postural education
Core body strengthening
Along with management of the complex stressors of cancer, this comprehensive approach allows patients to participate in activities that improve overall quality of life.
"Patients need time to heal. It's a long process," says Caldwell. "Our program addresses the whole person so you feel empowered during this time. We are with you each step of the way."
Through the program at Bryn Mawr Rehab, you may also receive alternative therapies, such as acupuncture or massage. The therapy team can further connect you to additional community support.
Main Line Health Cancer Care provides compassionate care through all stages of cancer treatment, from diagnosis through survivorship, for patients throughout the Philadelphia region and beyond. To schedule an appointment with a cancer specialist at Main Line Health, call 1.866.CALL.MLH (225.5654) or use our secure online appointment request form.