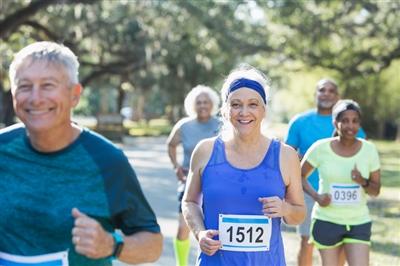 Winter gets a bad reputation for doing damage to your joints. Slick surfaces, sub-zero temperatures and snowy days can mean achy joints and a greater risk for injury. But—as it turns out—warmer weather isn't always kind to joints, either.
"Most of these factors aren't unique to any particular season, but we do tend to see more of them during summer and winter—times when the weather is extreme and people are traveling or maybe doing something different than their normal routine," says Joseph Vernace, MD, orthopaedic surgeon at Bryn Mawr Hospital, part of Main Line Health.
Since summer isn't meant to be enjoyed from the sidelines, Dr. Vernace offers some advice for protecting your joints and preventing pain from interfering with your plans.
Ease into your summer fitness routine
Sometimes all you need to convince you to work out is a sunny day. Unfortunately, many of us aren't as likely to hit the gym during the winter. So, while we might be ready to hit the ground running, our bodies aren't ready to keep up quite yet.
"People tend to overdo it in the summer because of the weather," says Dr. Vernace. "There is no shortage of overuse injuries among children and adults who keep running or playing past an injury that they assume is soreness or something minor."
Instead of jumping right into an activity, particularly if you've spent the past few months—well—on hiatus, try easing back in with slower or shorter workouts. And don't forget to weave in some rest days, too, to leave your body time to recover.
Be mindful of hot and humid days
Just like windy, cold and overcast wintry days can cause pain in your knees and hips, humid summer days have been known to have the same effect. This is caused by barometric pressure, a measure of the pressure in the air. On humid days—when barometric pressure is low—air pressure pushes less against the body and allows joint tissue to expand, causing joint pain.
While there's little you can do to change the weather, Dr. Vernace recommends spending humid days inside and, if you'll be outside, using cooling packs on your joints to combat the air pressure. If you're planning to exercise on a humid day, opt for very early in the morning or late in the evening when the hottest part of the day has passed.
Use the right tools to stay comfortable
Some of summer's most fun excursions (sandy beaches, camping trips, road trips) can also be some of its most uncomfortable. If you've dealt with joint pain before, don't swallow your pride just for the sake of going with the flow. Several tools and devices available at local convenience stores can go a long way in helping you feel comfortable and prevent pain.
"If you have back or hip pain, a cushion can help if you'll be sitting for a long period of time. A walking stick will help if you're going for a hike and, no matter what you're doing, make sure you're wearing a good pair of sneakers," says Dr. Vernace. "The right support can make a significant difference."
If you find yourself facing persistent joint pain, regardless of the season, your doctor can help you determine a cause and treatment plan. Main Line Health's Lankenau Medical Center, Bryn Mawr Hospital and Riddle Hospital—serving the Philadelphia suburbs and surrounding areas—have been ranked by U.S. News and World Report among the best hospitals for orthopedics. To schedule an appointment with an orthopedic specialist at Main Line Health, call 1.866.CALL.MLH (1.866.225.5654) or use our secure online appointment request form.