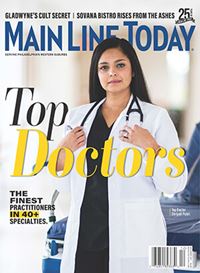 Selected by their physician peers throughout the region, more than 460 Main Line Health physicians have been recognized by Main Line Today magazine as 2021 "Top Doctors."
This year's list of "Top Doctors" included new specialties and physicians. The list once again contained special recognition for those physicians that ranked #1 in each of the respective categories. Out of the 62 specialties included in the list this year, many Main Line Health physicians occupied the top spot.
This listing is created via peer balloting. Doctors vote for their peers in a variety of specialties selected by Main Line Today editors. Only doctors licensed in Pennsylvania can vote, and they can't vote for themselves.
For more information on Main Line Today magazine's "Top Doctors" issue, visit mainlinetoday.com.
* Physician was voted #1 in their specialty
Addiction medicine
Allergy and asthma
Anesthesia
Cardiology: Cardiothoracic surgery
Cardiology: Electrophysiology
Cardiology: General
Cardiology: Interventional
cardiology
Cardiology: Surgery
Critical care medicine
Dermatology
Ear, nose and throat (ENT)
Emergency medicine
Emergency medicine, pediatric
Endocrinology
Family medicine
Functional medicine
Gastroenterology
Genetics
Geriatrics
Hematology/oncology
Hospitalist medicine
Infectious disease
Integrative medicine
Internal medicine
Interventional radiology
Maternal/fetal medicine
Neonatal
Nephrology
Neurology
Obesity medicine
OB/GYN
Oncology: Breast
Oncology: Colorectal
Oncology: Gynecology
Oncology: Lung
Oncology: Radiation
Oncology: Surgery
Ophthalmology
Orthopaedics: Foot and ankle
Orthopaedics: Hand and wrist
Orthopaedics: Hip and knee
Orthopaedics: Pediatric
Orthopaedics: Physical medicine
and rehabilitation
Orthopaedics: Shoulder and elbow
Orthopaedics: Spine
Orthopaedics: Sports medicine,
non-surgical
Orthopaedics: Sports medicine,
surgical
Otolaryngology
Palliative care
Pathology
Pediatrics
Plastic surgery
Psychiatry
Pulmonology
Radiology
Reproductive medicine
Rheumatology
Surgery, general
Surgery, pediatric general
Urogynecology
Urology
Vascular surgery