The day before your surgery someone will call you between 3:00 and 5:00 pm with the scheduled time of your surgery and any additional details you might need.
Note: If your surgery is on Monday, you will be called on Friday afternoon. At Bryn Mawr Hospital, you may call between 3:00–5:00 pm to confirm your surgery time.
Morning of surgery
On the morning of surgery take ONLY the medications that the preadmission nurse or preoperative physician has instructed you to take. Take your medicine with just a sip of water.
Arrival at the hospital
Please arrive on time. When you arrive you will meet many members of our team. At that time our staff will ask you to provide the name and cell phone number of your "coach" (designated contact person/family member).
All four hospitals are equipped with waiting areas for friends and family. There is also free Wi-Fi available.
Surgery at Lankenau Medical Center
Please come to the main hospital entrance where valet parking is available. The registration desk will guide you to your destination.
Family can wait in the Sun Room located on the fourth floor between the Pew and Rosengarten buildings, adjacent to the elevator lobby.
Surgery at Bryn Mawr Hospital
Please come to the Warden Lobby entrance on Old Lancaster Road. You will sign in at the registration desk where you will be directed to the Green Room, our surgical waiting area on the third floor. Friends and family can also wait comfortably here.
Surgery at Paoli Hospital
Please come to the Department of Surgery desk in the Atrium lobby. The waiting area for your friends and family is the Atrium lobby itself.
Surgery at Riddle Hospital
Please come to whichever entrance you were instructed by the person who called you the day before surgery. Family will be directed to one of two waiting rooms: Rothman prefers the fourth floor waiting room; Premier prefers the second floor.
Surgery prep
After you have been checked into the hospital, you will be taken to the pre-operative holding area. A nurse and anesthesia team member will discuss and perform final preparation for your scheduled surgical procedure, including:
Taking your vital signs (temperature, blood pressure, etc.)
Changing into a gown and removing undergarments
Cleansing with chlorhexidine wipes and nasal swabbing to prevent infection
Placing of an intravenous line for antibiotic and pain medication administration
Also, to ensure accuracy you will be asked to identify:
The type of the surgery you're having (example: knee replacement)
The site of the surgery (example: right knee)
The surgeon will then mark the site of your surgery and confirm your consent form.
Expect to be in this pre-operative area for one to two hours.
In the operating room
After surgical prep, you will be transported to the operating room where we will:
Apply leads for monitoring
Administer anesthesia (spinal or general)
The surgeon will then perform the procedure. A member of the anesthesia team will monitor and remain with you during the entire procedure.
At the completion of your procedure, you will be taken to the Recovery Room/Post Anesthesia Care Unit (PACU).
Post-surgery
After surgery you will meet the nurse who will care for you during your stay in PACU. The nurse will:
Apply monitors
Take vital signs every five to 15 minutes
Make sure you can feel your feet and wiggle your toes
Monitor your pain level (on a 0–10 scale)
Medicate you as needed
Your coach/designated family member may join you in the recovery area or in your hospital room.
When you are recovered from anesthesia you will be taken to your new room. You will be cared for by an entire team of professionals under the direction of your orthopedic surgeon. After surgery you may be seen by the surgeon, orthopedic resident, nurse practitioner and/or physician assistant to monitor and assure the best possible recovery and care from your surgery.
In your room
When you arrive in your room you will:
Receive a nursing assessment.
Have your vital signs taken often for the first 24 hours and less frequently as you become more awake and alert.
Be given clear liquids and advanced to solid food as tolerated.
Be asked about pain. The nurse will partner with you to always control your pain. Using the pain scale (0–10) as they did in the recovery room.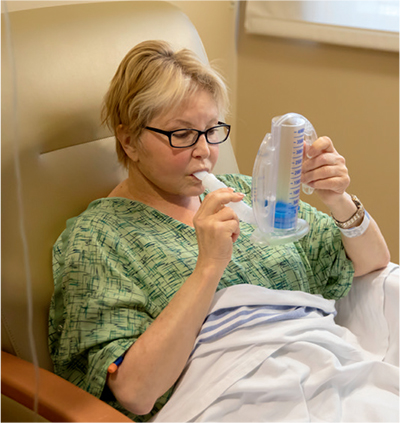 The nurse will assess your surgical dressing and pumps, and orient you to your room and unit (for example, the nurse call light). Members of the care team will instruct you on how to perform exercises that will speed your recovery.
Ankle pumps: 10 times each hour while awake
Tighten buttocks/thigh muscles: 10 times each hour while awake
Cough and deep breath: 10 times each hour while awake
Incentive spirometer exercises: 10 times, every one to two hours while awake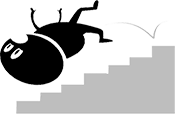 Please call, don't fall! For your safety, you will need to wear a personal alarm that will remind you not to get out of your bed, chair or bathroom without assistance. Staff may also need to stay with you while in the bathroom. Please discuss this with your nurse.
Pain medication, breath monitoring and obstructive sleep apnea
After your surgery you will be taking pain medication. You will also be connected to a breath monitor. This is because some pain medications and anesthesia can affect your breathing rate, possibly slowing it down.
Breath monitoring, also called capnography:
Measures the carbon dioxide (CO2) in your breath each time you exhale and inhale
Counts how many times you breathe each minute
How does it work?
The plastic tubing under your nose delivers oxygen and is connected to a breath monitor. By monitoring your breath each time you breathe out, we know if your breathing is slowing down. The numbers on the monitor tell us how you are doing. If you have obstructive sleep apnea and use a CPAP at home, please bring it to the hospital the morning you arrive.
Why are there three prongs—two in my nose and one toward my mouth?
Sometimes you may breathe from your mouth and other times from your nose. These prongs help us monitor your breathing more accurately, regardless of whether you breathe from your nose or mouth.
The alarms on the monitor make noise and wake me up. Is this necessary?
Yes it is. From time to time, you should expect to hear the alarm and wake up. Think of the monitor as an alarm clock reminding you to breathe deeply.
Can I drink liquids while I have this on?
You can drink liquids when your nurse tells you that it is okay. It may be easier to drink with a straw.
How long will I be monitored?
Your nurse and doctor must make that decision. Usually, patients are monitored only for the first 24 to 48 hours after joint replacement surgery.
What you may have after surgery
Based on your physician's protocol, you MAY have any of the following:
Sequential compression stockings or foot impulse boots to prevent blood clot formation in the calf
Oxygen therapy via nasal cannula or mask
A local anesthetic or similar medication around the joint capsule to minimize pain
Incision covered with a dressing (total hip)
An ACE bandage covering your dressing from your heel to thigh (total knee)
Blood pressure monitor
Pulse oxygen monitor
Pain management
Our goal is to minimize your pain so you can focus on healing. Keep in mind that:
Pain after surgery will be different than the pain you may be feeling now.
Pain comes from multiple factors, including muscle healing, incision, bone pain, and swelling of the joint.
You will be given different types of pain medication on a schedule. Your nurses will tell you what they are giving you.
About 30–45 minutes before physical therapy, you will be medicated. This will enable you to participate more comfortably in therapy.
Medicine to help your blood flow
You will take medication to decrease your risk of blood clots. Daily blood work may be needed for as long as you are taking the medication, to make certain the medicine is working properly.
Medications come in oral and injection forms. The type you need will be determined by your surgeon.
Hand washing and hygiene
To minimize the risk of infection, we encourage good hand hygiene and other practices that help prevent disease spread and infection. After your procedure:
Don't be afraid to remind doctors, nurses and caregivers to wash their hands.
Wash your hands after going to the bathroom and before and after eating.
Ask your family and visitors to clean their hands when entering and leaving the room.
Make sure visitors don't put personal belongings on your bed or in your room.
Wash your hands before and after physical therapy. During transport, legs should be covered with a clean sheet.
CLEANLINESS IS KEY. ASK FOR HELP IF NEEDED!
Staying well in the hospital
Hospitalization can be challenging at any age, but may be especially so if you're over the age of 70. Advancing age presents unique challenges for both patients and providers when it comes to maintaining mental and physical functioning during a hospital stay.
Please be sure to read carefully and follow the instructions you receive from your physicians, the hospital and the Joint Replacement Program.
Focus on function—Restoring and maintaining your ability to function well in everyday life should be a priority for both you and your health care providers. During your hospital stay, the nursing staff and therapists will help you do as much as you safely can for yourself.
Keep active—Not using your muscles for even a few days can cause them to become weak. This is one of the main reasons that we encourage patients to be out of bed as soon as possible with a hospital staff member always present.
See and hear—If you use glasses or hearing aids, remember to bring them with you. Not being able to see or hear well makes it harder to understand what is happening and may slow your recovery.
Visitors—Having a friend or family member stay with you as much as possible for a day or two can help you stay connected and on track.
Keep your mind active—Bring with you things to keep your mind active: books, crossword puzzles, word searches, newspapers, magazines, playing cards, favorite games. Consider bringing a CD or MP3 player with your favorite music.
Avoid confusion—General anesthesia, as well as the sedation given with local/regional anesthesia, can sometimes cause people to be confused or sleepy for up to several days. This happens more often in people who have emergency surgery, have a lot of medical problems, or have dementia or confusion before coming to the hospital. If you experience some confusion after surgery, having family or friends talk with you about your past experiences or shared memories may help you stay anchored and recover more quickly. Try looking at scrapbooks or photos. Visitors can also help you reorient by reminding you of things like the current date, recent or upcoming holidays, and other topical subjects. Having a nightlight on in your room may help if waking up in the dark in a strange place makes you feel disoriented. Ask the staff to turn this light on for you if you need it.
Don't fall: Call!—Please, get help before you get out of bed. Falling can cause serious injuries and delay your progress. We have found that the most common reason people try to get out of bed by themselves is the need to use the bathroom and the wish to do so in private. We recognize the importance of privacy—we also know how devastating a fall can be. Please ask for and accept help from the staff.
Good night's sleep—If possible, try to avoid using sleeping pills while in the hospital, especially if you have not used them at home. These medicines can sometimes cause confusion, poor balance and an increased risk of falling. Instead, try keeping the room bright during the day, staying out of bed as much as possible, and keeping the room quiet and the light low at bedtime. Ask for ear plugs or a warm, caffeine-free drink before bed.
Put your coach to work—Your coach should play an active role while you are in the hospital, taking part in your rehab sessions, meeting with you and your case manager to discuss your discharge plan, and learning how best to help you once you are home.
Physical and occupational therapy
Physical and occupational therapy may begin as early as the day of surgery. The role of therapy after a total joint replacement is to help you get back to doing things on your own.
Physical therapists will assist you in achieving mobility, strength and range of motion during your rehabilitative phase, such as:
Standing up from bed, chair or toilet
Stair climbing
Using walkers and assistive equipment
Car transfer
Physical therapy plan of care
Your start date depends on doctor's order and time of arrival to the surgical unit. Therapy usually involves:
Daily therapy
Walking 50–200 feet
Climbing stairs
Transferring from seat to car
Learning to use a walker, crutches and/or cane for support
Stretching of operative knee (if knee replacement)
Occupational therapy plan of care
Occupational therapy team members will assist you in being able to perform activities of daily living, such as:
Sitting down and standing properly
Getting dressed
Bathing
Grooming
Toileting
Transferring in and out of vehicles
Discharge planning
The responsibility of the discharge planner is to work with your treatment team to plan for a safe discharge from the hospital to your home.
The discharge planner works in your best interest with your health insurance company to obtain authorization and arrange inpatient and/or outpatient services and equipment you may need immediately after discharge. This person also handles daily communication about your medical progress with your physicians, nurses and therapists.
Many factors determine individual recovery and the equipment needs:
General medical condition
Your progress in meeting physical therapy goals
Your ability to manage the activities of daily living such as bathing, dressing, climbing steps, and transferring in and out of a car
Insurance guidelines
Timing of discharge is typically after one or two nights in the hospital. You should expect to go home upon discharge to continue your recovery.
Follow your surgeon's discharge instructions, which may include:
Outpatient therapy two to three times per week
Home care health agency (physical therapy) when approved by surgeon
Skilled facility if medically indicated

Living alone, having stairs, or prior surgeries are not medical reasons for needing a skilled facility.
Before you go home
Make a follow-up appointment. You'll need a follow-up appointment with your surgeon so please call to arrange if an appointment is not already listed on your discharge instructions.
Follow discharge instructions. Be sure to follow directions for any needed post-op primary care appointments.
Have someone pick up any home medications and new prescriptions. Once home, you may want to have someone stay with you or be available to check on you for at least one week following surgery.