Whole-body light therapy relieves pain, improves muscle and joint mobility
Laser and light therapy have long been proven treatments for relieving chronic inflammation, which is a trigger for a number of conditions and diseases. At Main Line Health Integrative and Functional Medicine Services, we offer whole-body light therapy with NovoTHOR, a leading-edge "pod" technology that uses "photobiomodulation" to evenly and precisely deliver red and near-infrared light to areas of degeneration or injury. Light therapy is able to regenerate cells and stimulate blood flow, both of which have healing and pain-relieving benefits. In light of the opioid crisis, whole-body light therapy also appeals as a pain-relief option that is nonsurgical and non-pharmaceutical. We are the only provider in this area to provide this treatment.
CALL 484.337.2670 FOR APPOINTMENT
Whole-body light therapy is most often used to:
Help improve joint mobility
Enhance muscle performance (e.g., for athletes)
Minimize soreness after physical activity
Specifically, whole-body light therapy can help:
Relax muscles and provide relief from muscle spasms
Temporarily ease minor muscle and joint aches, pain, stiffness
Temporarily relieve minor pain and stiffness due to arthritis
Because NovoTHOR treats the entire body, it is especially beneficial for people with multiple conditions, providing a full-body therapeutic effect.
Some patients may also benefit from laser therapy involving the same technology but applied more specifically to certain areas.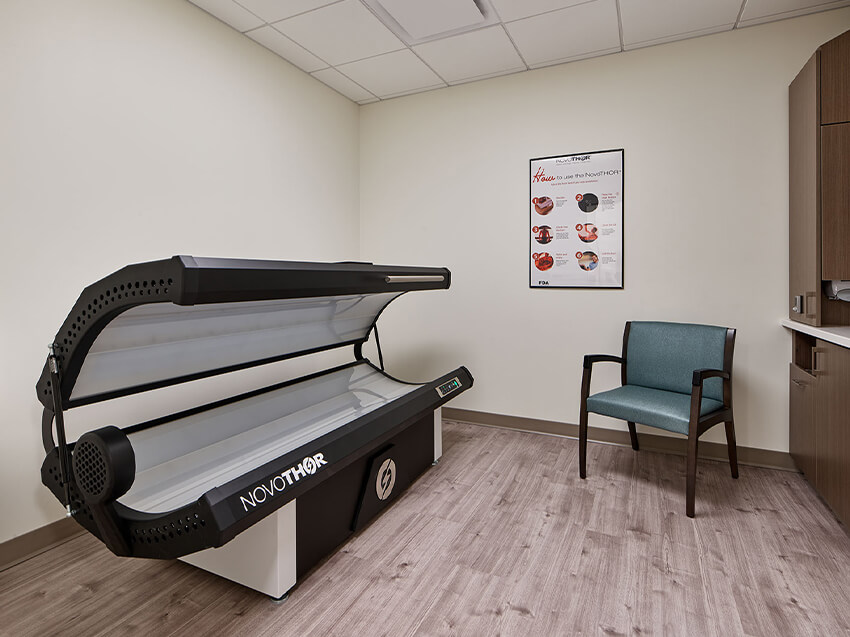 How long for whole-body light therapy treatment and what to expect
The duration of each appointment is generally about 20 minutes, including 12 minutes for the treatment itself. Whole-body light therapy is painless, but it is bright. You will be provided with special goggles to protect your eyes, but if you have skin photosensitivity issues, be sure to first consult your doctor to ensure this type of pain-relieving therapy is right for you.
In some ways, this type of therapy is equivalent to acupuncture for its ability to address the pressure points in the body.
The benefits of whole-body light therapy often include:
Faster, post-exercise recovery
Relief from pain and inflammation
Reduction of fat and cardiometabolic risk factors
People sometimes report that their sleep has improved, they feel less stressed or anxious, and even may get relief from depression.
You may notice improvement after just a single treatment, or it may take a few treatments or longer. Every person is different, depending on the extent of injury or damage to joints, muscles and tissues. Treatments are usually prescribed for six or 12 visits and can be done as frequently as every day.
Treatments are administered by a licensed physical therapist who is specially trained in whole-body light therapy.
To make an appointment for whole-body light therapy, please call 484.337.2670.