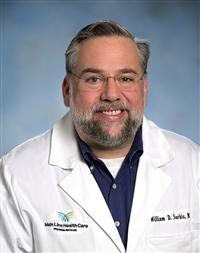 Dear Applicant,
Thanks so much for your interest in our residency program! Lankenau is a very special place to train—an academic medical center that facilitates the highest quality medical education while providing a warm, personalized environment to learn in. Lankenau Medical Center takes care of an remarkably diverse group of patients from the city of Philadelphia, surrounding suburbs, around the region and from around the world. This diversity combines with our location at the nexus of three counties to provide outstanding exposure to a fantastic spectrum of disease. From the most complex cardiovascular conditions to tropical diseases, we see it all. Lankenau is not a medical center that sends out all its interesting cases—we diagnose, treat and manage our own patients—something we're very proud of.
Our teaching faculty are incredible. Physicians who work at Lankenau are here because they love to take care of patients and love to teach. I am incredibly proud of the fact that our attendings are so accessible and that our trainees are able to have close relationships with the attendings they work with. We are very focused on the clinical, academic, career, and personal growth of our trainees—something that our entire teaching staff takes very seriously. We get to know you well and love to watch you develop as a physician. Lankenau Medical Center is a terrific place to work. Our facilities are amazing and are continuing to grow through a brand new $35 million Emergency Department that opened last year. Our ancillary services are second to none and our nursing staff is incredibly skilled—something that facilitates great patient care. The presence of the Lankenau Institute for Medical Research (LIMR) on our campus allows for our trainees to be involved in world-class cardiovascular, cancer, infectious disease, GI, and public health research.
In addition to our great academics and exceptionally friendly culture, we are incredibly devoted to our trainees' success after residency, whether that be as hospitalists, primary care physicians, or in subspecialty fellowship. Many of our trainees choose subspecialty fellowships after residency and our match rate is fantastic. Between 2017-2019 our trainees have matched at Lankenau, the University of Virginia, the Hospital of the University of Pennsylvania, Houston Methodist Hospital, Temple, Jefferson, Cooper, Lehigh Valley Hospital, Baylor, Brown, Christiana, Stanford University, the Mayo Clinic Rochester, and the Mayo Clinic Arizona. A number of our trainees choose primary care careers and four of our current seniors are going into primary care.
As I mentioned earlier, this is a very special place to train. Our attendings, associate program directors, staff, and I are deeply committed to ensuring you have an outstanding education while feeling supported and cared about—academically, personally, and spiritually. Since 1946, our program has remained dedicated to ensuring that our trainees, both categorical and preliminary, leave our program ready to provide the highest-quality, safe, evidence-based care to their patients.
I strongly encourage you to apply to our program. We would be delighted to meet you!
Best wishes,
William D. Surkis, MD, FACP
Program Director