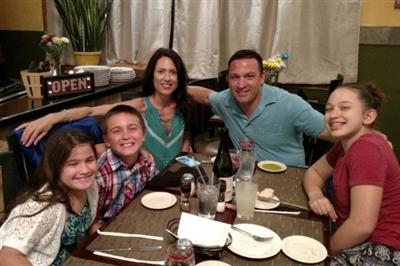 Tony Zarzaca admits that he's not unlike most men his age. When he noticed abdominal pain on Monday morning, he shrugged it off, assuming it would go away. When it worsened on Tuesday and he began running a low-grade fever, too, he took the treatment into his own hands.
"Like a typical man, I took two Advil and went to bed."
Well, tried to go to bed.
"My wife knew I hadn't been feeling well and, within minutes, I was leaving a message for my doctor," recalls Zarzaca. "I'm like most men—if it wasn't for someone who cared about me, my health would be in trouble."
Zarzaca and his family were patients of Lauren Baker, DO, family practice physician of Upper Providence Family Medicine at Main Line Health Collegeville.
Within minutes of leaving a message, Zarzaca received a call back from the practice's on-call physician that evening.
"I told him I was planning on going to bed and the on-call physician told me, 'No you're not,'" says Zarzaca. "He suggested that my pain was either a gallbladder attack or appendicitis, but said that—either way—I needed to get to the hospital."
Zarzaca began the drive from Collegeville to Paoli Hospital, where he was admitted to the emergency department. After a series of examinations, including a midnight CT scan with a technician that Zarzaca describes as being 'as nice as can be,' the verdict was in: appendicitis.
Although he wasn't looking forward to staying overnight in the hospital, Zarzaca credits the Paoli Hospital staff for making him feel comfortable from the moment he walked through the emergency room doors.
"It had been almost 10 years since I stayed overnight in the hospital. My wife and three kids were all at home, and I'm keeping my wife updated via text…I was nervous," says Zarzaca. "Every step of the process was managed by good, positive people that couldn't do enough for you—it was good all around."
The next morning, Zarzaca awoke early for his appendectomy. He was anxious, and remembers staff nurse Kellyanne Pot fondly for ensuring he met surgeon Scott Kripke, MD, before heading into surgery.
Once he arrived in the operating room, he shook hands with Janis Zvargulis, MD, anesthesiologist. Throughout his pre-op process—one that he admits made him nervous—Zarzaca felt comfortable meeting the people that would be performing his surgery.
"Dr. Kripke was a man of few words, but said the ones that counted and delivered on every word," says Zarzaca. "Everyone in between my room and the operating room…from pre-op to Dr. Zvargulis to transport was unbelievable and dedicating to making this crisis in my life seem routine."
Zarzaca's appendectomy was a success. Finally, almost a day and a half after he had planned to go to sleep with abdominal pain, he was able to rest painlessly. The following day, he returned home with clear discharge instructions and a new appreciation for the work of his family's hospital.
"What hit me when I returned home was not just the amazing level of customer service provided by Main Line Health, but the ability to do so in the face of life or death consequences," says Zarzaca. "I never realized what end-to-end care really was, but I do know great customer service when I see it, and I can tell you that Main Line Health has something great going on here."
Paoli Hospital is proud to offer a comprehensive range of health services and improve the quality of life in the communities we serve. Our superior inpatient and outpatient clinical programs include several specialized medical centers and health care services that, in addition to providing quality care, also serve as outstanding educational and health information resources. Visit our website for more information on Paoli Hospital.