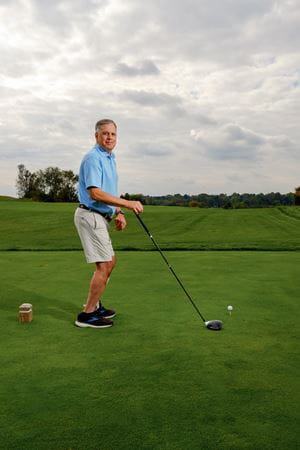 Stroke, a leading cause of death in the United States, can happen to anyone at any time. Just ask husband, father, entrepreneur and athlete Steve Zarrilli. At 58-years old, he felt healthy and fit as he drove to Ocean City, New Jersey. Just a few weeks earlier, Zarrilli completed a 65-mile Philadelphia-to-Shore charity bike ride, and he was eager to return to the shore to enjoy some much-deserved rest and relaxation with his family.
Zarrilli didn't know his world was about to change as he drove down the highway on a bright and sunny July day in 2019.
"The last thing I remember is looking down and seeing my left hand resting limply in my lap and not understanding how that happened. I don't remember anything else after that," Zarrilli says.
He was experiencing a carotid artery dissection that led to a stroke in the right side of his brain. His car spun out of control and crashed into a guardrail. A good Samaritan called 911 and stayed with Zarrilli until the paramedics arrived.
Zarrilli was rushed to a local hospital for emergency care and then moved to an acute care hospital. He underwent an emergency craniectomy to temporarily remove part of his skull to relieve pressure in his swollen brain. Three weeks later, Zarrilli was transferred to Bryn Mawr Rehab Hospital.
Recovery from carotid artery dissection begins at Bryn Mawr Rehab
"I couldn't even sit up when I first arrived, but my excellent care team encouraged me to get moving from day one. They never gave up on me," Zarrilli says.
Still wearing a helmet to protect his skull and exposed brain tissue, Zarrilli had to re-learn how to sit up, eat, walk and even talk. In addition to the physical challenges he faced, Zarrilli also had to combat neuro fatigue, an extremely common condition after a brain injury in which the patient is both physically and mentally fatigued, making it hard to concentrate or remember details.
"Recovering from a stroke is a use-it-or-lose-it battle. I was tired all the time; just getting out of bed would exhaust me mentally and physically. But I was also determined—I wanted to get back to my old self as quickly as possible and my care team was there every step of the way to help make that happen. They struck the perfect balance of encouraging me to push myself and knowing when I needed to rest and heal," Zarrilli says.
Holistic, family-centered care approach to stroke rehab
Bryn Mawr Rehab Hospital takes a holistic, family centered approach to care to ensure cross-team collaboration and communication with the patient and their family. Zarrilli's team included:
Physicians
Nurses
Physical therapists, occupational therapists, speech therapists
Psychologist
Case managers
And of course his family, including his wife, Carol, and their three children, Chris, Brendan and Melissa.
"When a family member is injured, it can change every aspect of a relationship. We work with families to try to get them all back to what can become their new normal," says physical therapist Mark Dewane, PT, DPT.
After three months as an inpatient, Zarrilli transitioned home, where his wife and children were ready to help with his recovery.
A human approach to robotics assists recovery from carotid artery dissection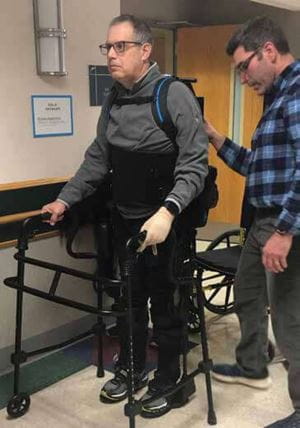 Zarrilli also continued his care at Bryn Mawr Rehab Outpatient Network as an outpatient, three times a week. During outpatient therapy, he began using the exoskeleton robotic device to improve his strength to eventually stand and walk on his own.
"The exoskeleton gives therapists and patients a lot of real-time feedback to help improve the ability to walk. For Steve, we could see how he shifted his weight while walking, determine if he was relying more on his left or right side and evaluate his stride length. All this information is essential to faster recovery," says physical therapist Megan Cullen, PT, DPT.
Robotic devices, like the exoskeleton, lead to more productive physical therapy sessions because patients can advance quickly while still working directly with a physical therapist, allowing for a human approach to technological advances.
"The exoskeleton is superior because it puts the patient in a mechanically advantaged position and allows them to learn a repetitive pattern in an open space. Patients who work with a physical therapist alone might only be able to complete 10-20 steps in a session, but with this technology, a patient can take 100 or even 200 steps in one session, helping them recover much faster," says Dewane.
Zarrilli adds, "Learning to walk again was the hardest challenge of my life, and the exoskeleton helped me understand exactly what I needed to do to make it happen."
Life after stroke: What it's like today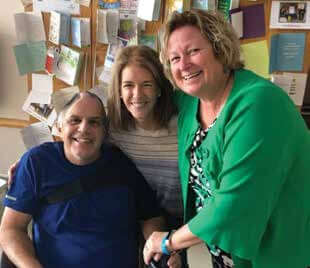 Today, Zarrilli's outpatient therapy is complete, but he still works on his recovery every day at home, exercising and learning to navigate his new normal. Since his stroke, he retired from his career and is focused on his family, friends and philanthropic commitments.
He is dedicated to helping others recovering from a stroke. Zarrilli plans to become a regular volunteer at Bryn Mawr Rehab. He is also in the process of writing a book about his experiences to serve as a resource for other stroke patients and their families.
"I feel stronger and more independent every day. I hope my story can inspire others and encourage them to never give up on their own recovery," Zarrilli says.
Bryn Mawr Rehab serves patients throughout the Philadelphia region and beyond.
We offer both in-person and virtual health appointments with our team of experienced therapists to new and current patients for speech, occupational and physical therapy. Find out more about the Stroke Recovery Program or learn more by calling Bryn Mawr Rehab at 484.596.5000.