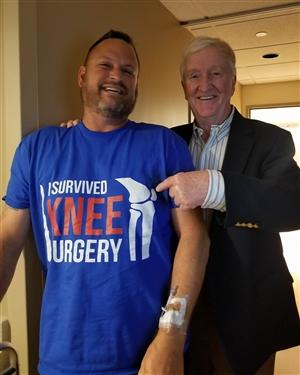 Dave Conaway's battle with knee pain began in January 2015, when the highway construction worker suffered a work injury. In the years that followed, persistent knee pain and limping became his new normal.
At the recommendation of his family doctor, Conaway scheduled a consultation with John McPhilemy, DO, orthopaedic surgeon at Lankenau Medical Center, part of Main Line Health. After an examination of the damage done to Conaway's leg, Dr. McPhilemy told him he'd need a total knee replacement.
The news didn't come as a surprise.
"Dr. McPhilemy told me, essentially, that there was nothing left to my knee and that I'd need a total knee replacement," recalls Conaway. "I expected it to be serious because I'd been limping around for almost three years, but he told me it was one of the worst cases of damage to the knee he had ever seen."
Only a few weeks after his appointment with Dr. McPhilemy, Conaway was scheduled for his knee replacement. When he arrived at Lankenau on August 11 for surgery, he admits he was feeling nervous—but was eager to finally find relief.
Conaway's care team began preparing him for surgery, but hadn't gotten far before pre-surgical testing determined his blood glucose levels were too high. Because Conaway was diabetic, continuing with the surgery mean a greater risk for infection.
Conaway was heartbroken.
"I was upset, but then Dr. McPhilemy took an hour to sit with me and my girlfriend and explain why it would be so risky to move forward. After our conversation, I was so grateful that he had put my safety first and taken the time to explain everything to me," said Conaway.
Surgery was rescheduled for November and, over the next several months, he and his girlfriend, Stacey, worked hard to manage his diabetes and blood glucose levels. They were determined to avoid a repeat of their August visit.
When Conaway arrived at Lankenau on November 3, he was already familiar with the pre-surgical routine. But this time, he made it into the operating room—and out with a new knee.
On the road to recovery
Now, nearly three months after his surgery, Conaway reflects on his time at Lankenau and care under Dr. McPhilemy with gratitude.
"I've been a diabetic for six years, but I never knew that my blood glucose levels could affect my surgery. It wasn't until Dr. McPhilemy sent me to an endocrinologist that I knew how it all worked together. I got my blood glucose levels to where they should be and if it wasn't for Dr. McPhilemy, that never would have happened and I'd still be in pain, too."
While Conaway's knee is still stiff, he is working on daily stretches and exercises, and will be going to physical therapy to improve his mobility. In the coming week, he says he's anxious to get back to work but even more anxious to regain full mobility of his knee.
In the meantime, Conaway and Stacey continue to promote Lankenau and Dr. McPhilemy.
"We tell people: If you ever have to go to the doctor, go to Lankenau! The parking attendants, the nurses, everyone was so kind. Everyone is so friendly and professional," says Stacey.
"Even though Dave lives a considerable distance away from Lankenau, I felt comfortable asking him to come to Lankenau for his surgery because I had the utmost confidence that he would have a great experience because of the people," says Dr. McPhilemy. "I'm very proud to expose people to Lankenau because I know they're going to have a great experience."
"I respect Dr. McPhilemy as a doctor. He not only took great care of me, but he explained my care and my surgery to me in a way that I could understand. It wasn't all clinical talk. I understood every aspect of my care," says Conaway. "I think of him as a friend, too. He truly cared about me and my well-being."
Orthopaedic care at Main Line Health
To schedule an appointment with an orthopaedic specialist at Main Line Health, call 1.866.CALL.MLH (225.5654) or use our secure online appointment request form.
For same or next day appointments at Lankenau Medical Center, call 844.ORTHO.11 (844.678.4611) from 9:00 am–4:30 pm.