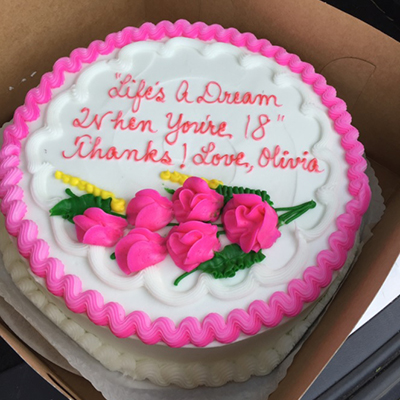 Carla Marrone returned to Lankenau Medical Center, part of Main Line Health, along with her husband Kurt and their son Jonathan and daughter Olivia, to celebrate Olivia's 18th birthday the best way they knew how. Bearing the gift of pound cake from Stock's Bakery, the Marrone family made the 70-mile trek from Margate, NJ to Lankenau in Wynnewood, PA to show appreciation for the compassion and expert care delivered by the Neonatal Intensive Care Unit (NICU) team—many of whom still work at Lankenau today—to Carla and her NICU baby Olivia 18 years earlier.
Born at only 24 weeks, Olivia Marrone entered the world drastically underweight at one pound, seven ounces with severely underdeveloped lungs and was transferred immediately to the NICU. "When your baby is born so small, especially when it's your first child, it is so scary not knowing what to expect," explains Carla.
"I was counting on everyone to take care of my baby. My husband and I felt like we needed the NICU nurses and doctors so much. They not only took great care of Olivia, they also took care of us and for that, we are eternally grateful."
The NICU, where newborn babies stay for days, weeks, or in this case, months, cares for newborns suffering from medical conditions or who are born prematurely like Olivia. Last year, Main Line Health's four NICU's cared for more than 600 babies who are premature or suffer from a multitude of other medical issues. Nemours DuPont Pediatric neonatologists and neonatal nurse practitioners staff Lankenau Medical Center and all Main Line Health hospitals around the clock to care for critically ill newborns or newborns requiring more intensive, specialized treatments.
When Olivia reached two pounds, Carla was thrilled that her newborn daughter was finally able to celebrate a small milestone because, at long last, Olivia was gaining weight and moving in the right direction. However, she was still in need of constant care from the NICU team for months to come.
"The NICU team did so much to help Olivia put on weight, that we were just overjoyed when she reached two pounds," said Carla. To celebrate Olivia's first milestone, Carla had pound cake from her favorite bakery, Stock's, delivered to the Lankenau NICU to recognize the nursing staff and clinical team that so kindly helped Olivia gain her pound and made Carla feel comfortable and cared for along the way.
Several pounds and several months later, Olivia was discharged from Lankenau. Carla was so pleased with the NICU team and the exceptional level of care that Olivia received at LMC that they returned to the Lankenau NICU after her discharge to show their continued thanks on Olivia's birthday each year delivering a birthday pound cake.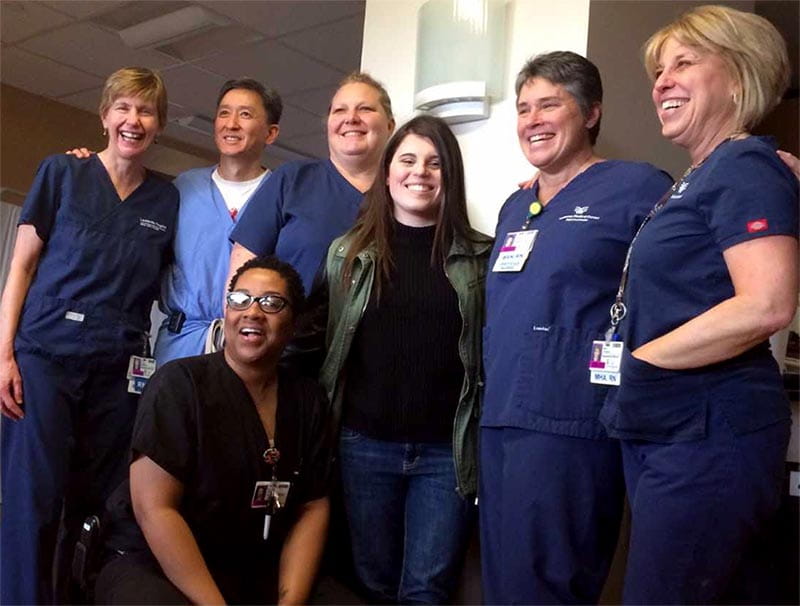 Eighteen years later, now preparing to graduate with honors from Our Lady of Mercy Academy in Newfield, NJ, Olivia is headed to college in New York City where she has been accepted to Marymount Manhattan College. Despite having undersized lungs at birth, Olivia swam all four years of high school on her school's swim team where she is now the team co-captain. Olivia also enjoys the performing arts, singing and dancing in her school's theater program all four years of high school.
This January, the Marrones made the journey from their home in Margate to Lankenau to recognize the NICU team with yet another pound cake, thanking them for giving Olivia the chance to grow into the strong, healthy young woman she is today.
"I really like coming back to the Lankenau NICU to say thank you every year," says Olivia. "It's become a tradition. Even though I was a newborn and I don't remember them, I still love to go back to say thank you for everything the NICU nurses and doctors did for me when I was a baby."