All four of Main Line Health's acute care hospitals are the recipients of the 2021 American Heart Association (AHA) Mission: Lifeline award. Each hospital independently received these recognitions by implementing quality improvement measures that ensure cardiovascular patients receive efficient and coordinated care, ultimately leading to more lives saved, shorter recovery times and fewer returns to the hospital.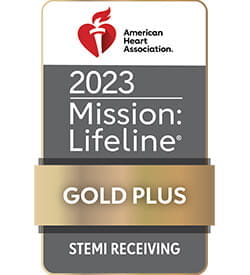 Lankenau Medical Center, Bryn Mawr Hospital and Riddle Hospital received the Mission: Lifeline Receiving Center Recognition Gold Plus Award and Paoli Hospital received the Mission: Lifeline Receiving Center Recognition Gold Award. Riddle Hospital's EMS team also received the Mission Lifeline – EMS Gold Plus recognition.
"I am extremely proud of Main Line Health for this recognition from the AHA. Main Line Health is dedicated to improving the quality of care for our patients who suffer a heart attack. The Mission: Lifeline program helps put proven knowledge and guidelines to work on a daily basis to improve outcomes for cardiovascular patients," said Jack Lynch, President and CEO, Main Line Health.
Nearly half of all adults in the U.S. have experienced some form of cardiovascular disease – including heart attack, stroke and heart failure. For patients with conditions that are severe enough to be transported or admitted to a hospital, time is critical.
The American Heart Association's Mission: Lifeline program helps reduce system barriers to prompt treatment for heart attacks, beginning with the 9-1-1 call, to EMS transport and continuing through hospital treatment and discharge. Optimal care for heart attack patients takes coordination between the individual hospital, EMS and healthcare system. The initiative provides tools, training and other resources to support heart attack care following protocols from the most recent evidence-based treatment guidelines.
William A. Gray, MD, System Chief of Cardiovascular Diseases and President of Lankenau Heart Institute, added, "We are extremely honored to receive this prestigious recognition from the AHA. It is the culmination of a lot of teamwork, attention to optimizing processes, and dedication to providing the best care possible to heart attack patients---regardless of where they enter Main Line Health."
"EMTs and paramedics play a vital part in the system of care for those who have heart attacks," said Robert P. Girardeau, MSM-HCA, NRP, FP-C, System Director, Emergency Medical Services & Patient Transportation Services at Main Line Health. "Since they often are the first medical point of contact, they can save precious minutes of treatment time by activating the emergency response system that alerts hospitals to an incoming heart attack patient."
The awards are presented to hospitals for implementing specific quality improvement measures outlined by the AHA for the treatment of patients who suffer severe heart attacks. Main Line Health hospitals earned the award by meeting specific criteria and standards of performance for quick and appropriate treatment through emergency procedures to re-establish blood flow to blocked arteries in heart attack patients coming into the hospital directly or by transfer from another facility.