Liz K. found a passion for pediatrics—and a home at Main Line Health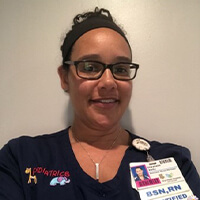 Liz's relationship with the Main Line Health system started in childhood as she grew up in Paoli and was a patient of Main Line Health hospitals.
Her first degree was a Bachelor of Science in Fitness Cardiac Rehab/Exercise Science, but a conversation with Ruth Akers about cardiac rehab led to Ruth's recommendation of other possible career options, such as nursing. Liz took the advice and returned to school, receiving her Bachelor of Science in Nursing from Thomas Jefferson University. She then began at Bryn Mawr Hospital in 1998 as a nurse on the 5C Med Surg Tele unit.
After getting her feet wet in Med Surg, Liz was looking for a change and transferred to pediatrics as a full-time nurse. While she gained experience in the PICU environment she remained on as a per diem and then part-time staff nurse. Liz was promoted to assistant nurse manager of the pediatric department four years ago and continues to manage the department today.
"Even when kids are sick, they remain positive and happy," says Liz. "I found my passion in pediatrics and my home at Main Line Health."
Liz owes her advancement opportunities at Main Line Health to her manager and mentor, Kelly Ann Zazyczny, who introduced her to the right people she needed to gather information and learn from so she could best support both the vascular access team as well as pediatrics in her respective roles.
At Main Line Health there's always someone to answer your question, to be a resource and provide support.
The tuition reimbursement program at Main Line Health also contributed to Liz's success as did the education and development classes offered, such as "Peer-to-Boss" and "Crucial Conversations." She is currently pursuing her Master of Science in Nursing.
At Main Line Health," she adds, "there's always someone to answer your question, to be a resource and provide support."