Outstanding people—the top Main Line Health benefits, year after year
Main Line Health fosters a work environment where employees are encouraged to bring the very best of themselves—their skills, innate talents and high character—and to strive to reach their greatest career potential. That's why you'll find good leadership and working with so many great people are among the top Main Line Health benefits. Many people who start working at Main Line Health continue working here because it's simply a great place to work. You'll hear it said over and again—by people who've been here a few months, a few years, or a few decades.
"I've worked at Main Line Health going on five years—longer than any place I've ever worked before—so that's really saying something. I love my work, I enjoy the people, and I'm always impressed by the top-down culture. The CEO Jack Lynch sets the tone and example with courage, authenticity, and proactive, direct communication that permeates the entire organization." – Frances C.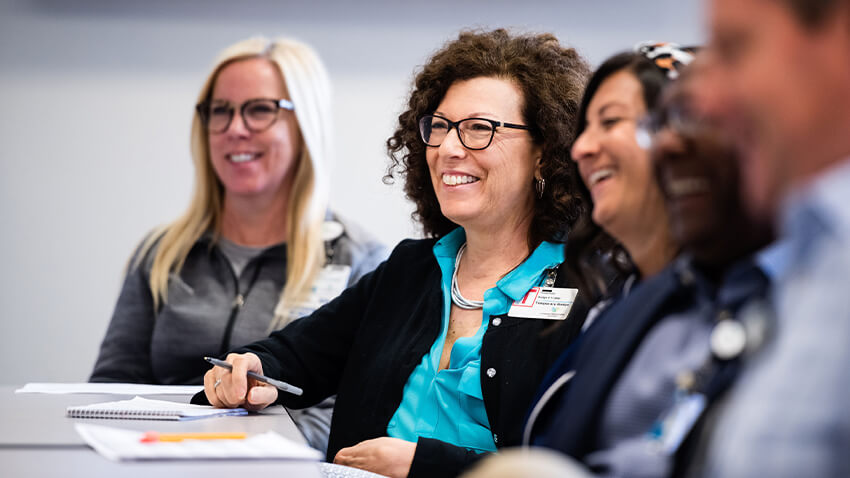 What we offer our employees
Main Line Health is a fiscally sound hospital system that has achieved Magnet designation and other awards and honors across the system. We are leaders in clinical care, teaching and research, and have a name and reputation people trust and value throughout the Greater Philadelphia region. We also offer:
Ideal suburban locations – Free parking for employees at all locations along with excellent schools and communities on the Main Line.
No city wage tax for non-Philadelphia residents.
Advancement opportunities – Seamless transfers from one hospital to another without interruptions of benefits or seniority.
Employee referral bonuses – Great people know great people and we want to reward you for your referrals.
Comprehensive benefits package – Flexible health care benefits including medical, dental, vision, life insurance, accidental death and dismemberment, and disability coverage.
Generous Paid Time Off (PTO) – Opportunity to take off using your Earned Leave Time, which includes sick, vacation and personal time.
Competitive salaries – Compensation that is at or above industry standard for other similar positions in this area, with an attractive benefits package and other perks.
Retirement saving plans:
403(b) Retirement Savings Plan – This is a type of retirement plan designed to supplement your pension plan and help provide for your future financial security through a combination of personal savings, current tax savings, and matching contributions made by Main Line Health.
Pension Plan – A rarity in this day and age, this is a 100% employer contribution plan in addition to the 403(b) plan. Main Line Health employees can become fully vested in the pension plan when you have worked a minimum of 1,000 hours per payroll year for five years.
Tuition reimbursement – Many of our employees invest in themselves by furthering their education with advanced certifications and degrees, made possible through our tuition reimbursement program! We offer up to $6,000 per year based on your full- or part-time status.
Education and training – All employees are encouraged to attend Main Line Health education and development courses that offer a variety of relevant tools and resources to help you achieve your personal and professional goals.
Performance – On-going feedback and career development are provided to employees by your manager through the use of performance appraisals, self-evaluations, multi-rater feedback and 1:1 communication to further develop yourself professionally.
Main Line Health benefits are among the many reasons employees come to work—and stay—at Main Line Health.