Nursing at Lankenau, a sense of community and family beyond compare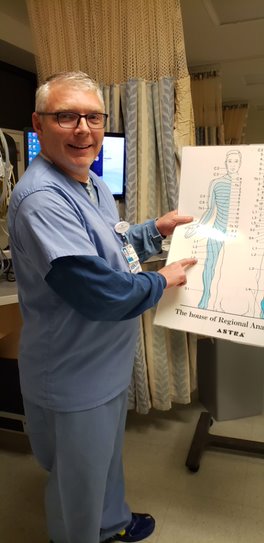 As an 18-year-old EMT, Michael M. used to come to the Lankenau Medical Center ER, where he eventually landed a job as a patient care technician, working weekends until finishing nursing school in 1998. He then became a staff nurse on the cardiac telemetry unit and from there had the opportunity to become a travel nurse with per diem status at Main Line Health. His work as a travel nurse led him to California where he worked in San Diego and San Francisco, flying back to Philadelphia every three months to fulfill his per diem nursing requirement.
"I worked at great hospitals on the West Coast," he reminisces, "but I was always proud to come back to Lankenau. It was like coming back home, back to family. I would compare it to other hospitals and thought, wow, they just don't have what we have," in terms of tools and opportunities for nurses to provide the best patient care.
Lankenau PACU nurse duties, from pre-op to postsurgery
Mike moved back to Philadelphia and continued on the cardiac telemetry unit as a per diem nurse until 2004 and later transitioned to the Cath Lab/EP where he worked for 12 years and during which time he became a Registered Cardiovascular Invasive Specialist (RCIS). He now works for surgical services in the PACU where he's had opportunity to expand his knowledge of patient care, spanning from OB/GYN to surgical, and urology to general surgery.
"It's nice to be able to see the patient throughout the day. When they first arrive, they may be nervous or scared, but helping to calm their fears and gain their trust is something I enjoy. Occasionally, I see the same patient after their surgery is complete, when they're on their way to recovery. I enjoy being part of that continuum of care and being a friendly face at the beginning and end of the day."
"I would always compare Lankenau to other hospitals (I'd worked in) and thought, wow, they just don't have what we have."
What it's like to work in a Magnet-recognized hospital and health system
Since he began at Main Line Health, Michael has taken advantage of the organization's tuition reimbursement program, going back to college to receive his Bachelor of Science Health Arts and later a Master of Science in Nursing Administration. He's particularly proud of Main Line Health's System Magnet designation, which he sees is something that empowers nurses to be heard and to contribute to decision-making in patient care.
"We're in a profession that's constantly changing so we can't be stagnant in health care. We need to be willing to flow with the changes, adapt and work well together," he continues. "Being able to give suggestions for better communication and share ideas with leadership also leads to staff satisfaction."
Mike also points to Main Line Health as a great place to work because of the fact that all four Main Line Health acute care hospitals—Lankenau Medical Center, Bryn Mawr Hospital, Paoli Hospital and Riddle Hospital—are strong and competitive in the region, and they're here to stay.
Improving the work environment by taking a stand against bullying and incivility among health care workers
Having recently achieved Clinical Ladder 5, which is the top rung of the Magnet ladder and entails being in a master's program or having completed a master's degree, Mike has also developed a project within Lankenau to improve patient satisfaction and experience. Based on his master's thesis, which was on incivility, bullying and lateral violence in the nursing environment, he developed a toolkit for nurses that includes an ID card reading "Speak Up"—an acronym for:
Stay calm
Put yourself in the other person's shoes
Express the fact
Address the behavior
Keep your core values/integrity in place
U are safe to document and report
Practice what you preach
"We have so much stress and responsibility with delivering safe patient care today. We're learning new computer systems, new medications, and new medical technology; we need to communicate and work better as a team vs. letting people drown. We can't leave people out," Michael asserts. "We have to maintain professionalism while being accountable for our jobs, which includes mentoring and leadership, but also helping those who are having a tough day."
"I'm not just a staff member. I'm vested. I'm here to make this place better."
He's done all of this with the enthusiastic support of nursing leadership, which is another aspect of working at Main Line Health Michael loves. "To be able to personally email and reach out to the Chief Nursing Officer Barbara Wadsworth, and not be intimidated or concerned that I'm bothering her, because she really wants to hear what's going on the front line of nursing. She wants to help make our jobs better, to be able to deliver safe patient care and keep us one of the top medical facilities in the region. I'm amazed at having that open-door policy," continues Michael. "And I'm not just a staff member. I'm vested. I'm here to make this place better."
Find out more about nursing excellence at Main Line Health.