Former school teacher designs her own nursing career path at Main Line Health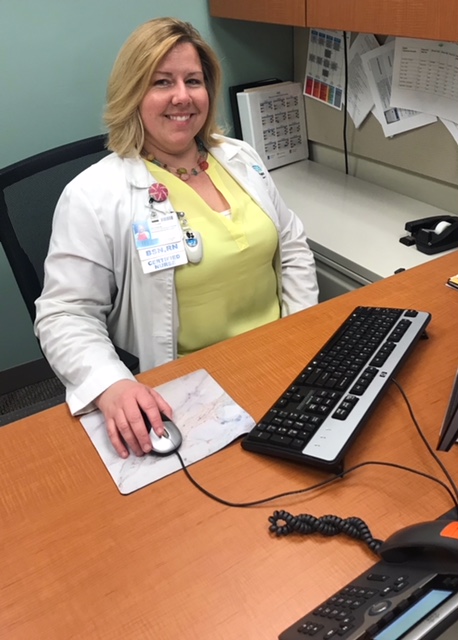 Before there was a nursing residency program at Paoli Hospital, Melissa Winters made a gutsy move. While she was still a nursing school student, she called the HR department for Paoli Hospital and told the recruiter she was in school and willing to work on any unit and any shift. A weekend shift happened to be available on the oncology floor, which conveniently allowed her to continue her weekday studies and then work on weekends. "It was the right time and the right place," Melissa says. "I was just setting things up for myself."
That was 12 years ago.
She went on and finished her nursing degree, continuing to work multiple shifts at Paoli. When a new manager came on board, Melissa communicated to the manager about a role she really wanted if it ever became available: patient care facilitator. A patient care facilitator navigates a patient's stay, is an advocate for the patient beyond the bedside, and ensures doctors, nurses and all involved in the patient's care are kept informed and on the same page. It so happened there was a vacant position, which Melissa interviewed for along with other candidates. Melissa landed that job, too.
"You can't make things happen for yourself unless you're willing to break out of your shell and just go for it," she advises others who may be just starting their nursing journey or wanting to forge a new path.
Nursing career advancement marked by growth, participation and engagement
Melissa is now assistant nurse manager on the med-surg/trauma/hospice unit. The former school teacher of 10 years admits she's always looking to make improvements and can't help being an agent for change. She has enjoyed participating in a variety of roles beyond the scope of her job, including being unit council leader and also being part of the nurse executive committee. She's currently system leader for the nursing peer review and recognition committee, and is the co-leader of the clinical ladder program at Paoli Hospital.
Of nursing peer review, Melissa says, "It's an opportunity to see where nurses just soar in the care that they provide, and how we as a hospital and system also soar. We're at our very best, catching things and speaking up where there are safety issues."
Through the clinical ladder program, Melissa acts as a guide for nurses, helping to bring out the best in those who wish to go up the ladder in their professional path.
Nursing leadership team makes all the difference
In her current role, Melissa works closely with her manager, Lisa Boraske. "We have a really 'together' relationship," she says. "Having nursing leaders on the same page really helps the staff, but we're also leaders willing to dive in and do the work. When there are staff needs, I could choose to sit in my office and do my work but I choose to get out on the floor and do what needs to be done for the patient."
Collectively, the nursing leader team has helped Melissa learn and grow. "I don't know everything," she admits, "but I'm comfortable knowing that I don't know everything. And it's great having a team supporting me along the way."
Find out more about nursing excellence at Main Line Health.