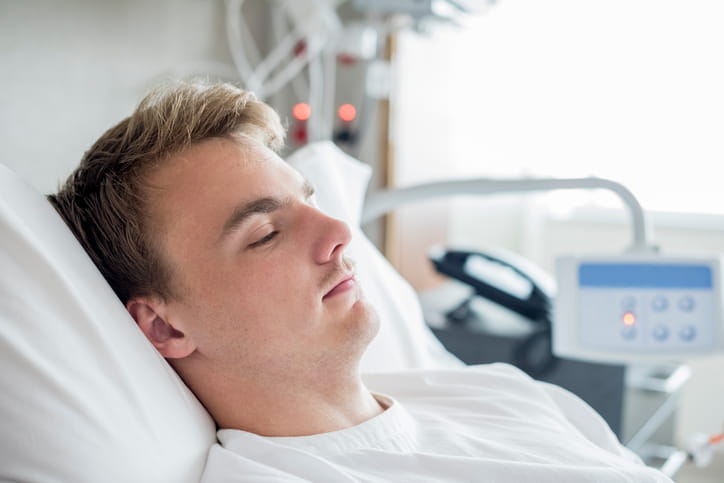 A new study is shedding light on the importance of sleep for individuals recovering from a brain injury.
The study, published in the December 2016 issue of Neurology, studied the rate of recovery and sleep-wake cycles of 30 individuals who had suffered a traumatic brain injury (TBI). Patients ranged in age from 17-58, and the cause of their injuries ranged from sports injuries to falls or automobile accidents.
Researchers monitored patients' sleep-wake cycle and rate of recovery over the course of a 45-day hospital stay and found that, as cognition and consciousness improved, so did sleep patterns.
Patients who still had low levels of consciousness and cognitive functioning would "sleep for a couple of minutes and then wake up for a couple of minutes," both day and night, says Nadia Gosselin, the study's senior author and an assistant professor in the psychology department at the University of Montreal.  
"Sleep is a crucial part of cognitive health. The hours that we spend sleeping are important for allowing your brain to repair and recharge and rid itself of toxins," explains Cynthia Simonds, PsyD, Director of Bryn Mawr Rehab Hospital Psychology Associates, part of Main Line Health. "It makes sense, then, that sleep helps the brain recover from a traumatic event."
In addition to a regulated sleep-wake cycle, researchers also noticed an improved quality of sleep. 
But what does this research mean for individuals who have recently been hospitalized for or who are recovering from a TBI? Sleep should be an integral part of your recovery, says Dr. Simonds.
"Health care professionals, including doctors and therapists, need to be aware of the environments where these individuals receive their care," she says. "Although it does take time for the body to reconcile a normal sleep-wake cycle following a TBI, there are certain factors that are within our control that can contribute to more and better quality sleep."
These factors can include controlling noise and light in treatment areas. During treatment and recovery, patients can benefit from natural light and a moderate amount of noise during daytime and sleeping in a dark, cool, quiet room at night. 
The American Academy of Neurology notes that more research is needed to discover how hospital lighting and noise can be adapted to benefit TBI patients. However, Dr. Simonds notes that all patients recovering from brain injuries—like a TBI or concussion—can benefit from a good night's rest .
"The body and the brain can benefit from rest following a brain injury. The appropriate balance of healthy, restorative sleep and daytime activity are critical to brain recovery," she says.